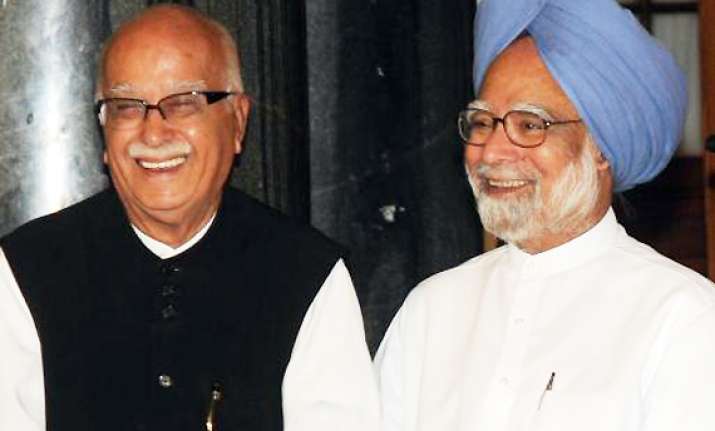 Saoner (Maha), Oct 17: BJP leader L K Advani again took a dig at Prime Minister Manmohan Singh today, saying he took pity on him over the condition of the UPA government.

"The condition of the government is very bad. Sometimes I take pity at Manmohan Singh though I had respect for him at one time," Advani told a meeting at Saoner, near Nagpur, as his anti-corruption yatra entered Maharashtra.

Advani said Singh happens to be the weakest Prime Minister he has ever seen and that even the likes of I K Gujral, Chandra Shekhar and H D Deve Gowda who had only handful of MPs with them had performed better.

"We have had Prime Ministers like Chandra Shekhar, Deve Gowda and I K Gujral who may not have even ten-fifteen MPs but who never appeared weak as there is a lot of strength in the position of Prime Minister," he said.

Advani said calling Singh weak is not an abuse.

"When I criticised him by calling him 'weak' before the 2009 elections people asked me why I said that because he was a good and honest man. Calling him weak is not an abuse.  But if the Prime Minister thinks that he cannot do anything till 10 Janpath does not give me clearance, it does not behove him," he said.

 

Advani also claimed that the UPA government was talking of reviewing the Right to Information(RTI) Act because it had brought out in the open the rift between two of its ministers (Pranab Mukherjee and P Chidambaram).

On his way to Nagpur, which is home to RSS headquarters, Advani also mentioned that when he had taken the decision to set off on his sixth yatra in 21 years there were some "associates who tried to dissuade" him. 

"Don't go on a yatra they said, there are new methods of communication that exist. Television has reached every home, Internet and other IT devices have made communication so simple, why then work so hard, why then move from village to village for forty days on the rath."

"I replied that in my experience of past six yatras that even now in India, the way a message can reach people via a yatra cannot reach in any other manner," he said.

Advani in his previous meetings had refuted news reports that a section in the RSS headquarters at Nagpur were opposed to his embarking on another yatra. 

"It is unfortunate that in India there are crores of people in whose villages there is no electricity. so how can these people watch Television and even if there is electricity, it is available only for a couple of hours," he added.

He further said that when the UPA retained power (in 2009), Manmohan Singh had promised to take concrete steps to bring back black money stashed away in foreign countries within 100-days after coming to power.

But it has been two years that the Congress-led coalition has been at the Centre and failed to fulfil its promise, he said, adding if the black-money is brought back, all six lakh villages in the country can get rid off problems of drinking water, electricity and infrastructure.

As he moved towards Nagpur, Advani said that in the first seven days of his yatra he felt that the response of the people was increasing which gave him the feeling that he was riding a "rollercoaster" that was gaining momentum.

Apart from BJP President Nitin Gadkari, party leaders Venkaiah Naidu and Gopinath Munde came to Madhya Pradesh-Maharashtra border to receive Advani's yatra.