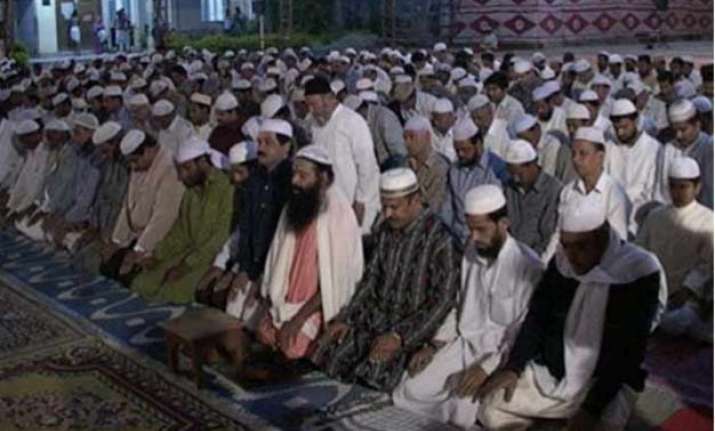 Chennai: When 800 Dalits of the Pallar caste which included 200 out of total 300 families in Meenakshipuram village of Tamil Nadu, converted to Islam on February 19, 1981, the incident of mass conversion brought this small village at the foothills of the Western Ghats into limelight. The village's name was also changed to Rehmat nagar.
Now, 34 years later, with the country embroiled in a heated debate over conversions and ghar wapsi, the villagers of Rehmat Nagar think there is no parallel. Tamil Nadu's upper caste prejudices against Dalits were the prime reason for their conversion. It was an act of rebellion to get rid of the caste baggage.
So, A. Mookan became Omar Khayyam, who is now a retired government school teacher. Recalling the day when he signed an affidavit accepting his new faith, he says "I had no clue about my new religion. But since I had suffered enough as a Pallar, I agreed to convert."
But it was not the first time he had changed his name.  "After I joined the government service and started teaching in 1968, my first posting was in Nagercoil (a town close to Thiruvananthapuram in Kerala). My name Mookam was a dead give-away.
People knew I was an untouchable and I was not able to find a house anywhere in Nagercoil. Out of desperation, I started calling myself Umadevan and claimed I was a Thevar (an intermediary caste). For the next 12 years, I was a Thevar for my landlords," he says.
An incident that took place in late 70s inspired the pallars of Meenakshipuram to convert.
A communal trouble broke out when Thangaraj, a Dalit Pallar, eloped with a Thevar girl from the same village. The couple converted to Islam: Thangaraj returned as Mohammed Yusuf and his wife as Suleha Beevi. The Thevars left them alone. That set the Pallars thinking.
Now Muslims make up over 70 per cent of Rehmat Nagar's total population which is around 1,000. Before the conversions, there were a few Muslim families in the village.
Omar Sharif, now clergy of Meenakshipuram Masjid, claims conversion has elevated their position in society.
In the days following February 19, 1981, several Hindu leaders including A B Vajpayee visited Meenakshipuram and requested villagers to rethink their decision.
Almost a year after the conversion, then CM M G Ramachandran ordered a court of inquiry and set up the Justice Venugopal Commission to look into the conversion.
 MGR's successor J Jayalalithaa brought the Tamil Nadu Prohibition of Forcible Conversion of Religion Act in 2002. The Act was, however, repealed in May 2004 through an ordinance following strong objection from the minorities.
The recent controversies over conversion have left people in Rehmat Nagar wary. "I don't remember," says Yusuf's younger brother Amanullah, now in his mid-50s, when asked about life in Meenakshipuram before the conversions. "I don't want to. That was 34 years ago."