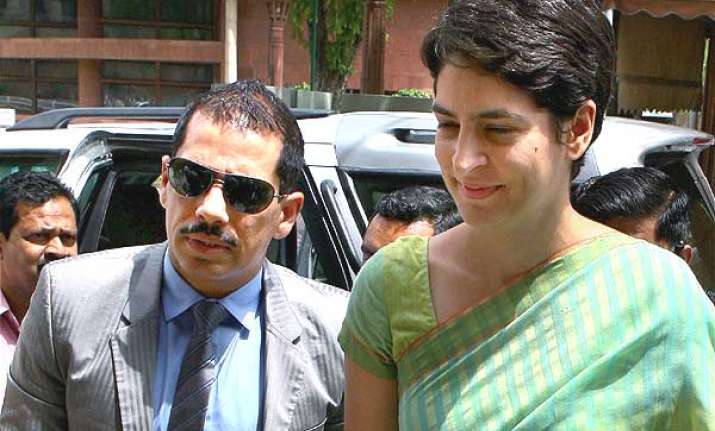 Congress President Sonia Gandhi's son-in-law Robert Vadra has said he was not presently inclined to join politics, but if he ever did, he would definitely win "from anywhere".
In an interview to Prabhakar Sinha and Arati Jerath of Times of India, Vadra said : "I can definitely win (an election) from anywhere but I am a businessman. Why politics? I should be known for what I am." 
Vadra, 41, said he would join politics only when he felt he could make a difference. "There is a time and place for everything. If I feel that I know enough about this line (politics), if I can dedicate enough time and effort to it, when my children are grown up and if I can make a difference, then why not?"
But he hastened to add: "I don't even indulge in the thought at the moment. I enjoy my children, my business, my fitness regimen and other pursuits." 
Vadra revealed for the first time that he was under great pressure to contest from Sultanpur, adjoining Amethi in Uttar Pradesh in the 2009 Lok Sabha polls but refused. 
"There was huge demand for me to stand (from Sultanpur) but I was clear that it was not my place. I was being recognized only because of the family". 
However, Vadra admitted that he "does his bit" by accompanying wife Priyanka during poll campaigns. "I travel with her when she campaigns. I have been travelling for 12 years. I have done my bit, given many speeches". 
Vadras said he is often asked whether he is disappointed that mother-in-law Sonia Gandhi turned down the offer to become prime minister in 2004.
"I tell them that even if she had become PM, my office would continue to be in Sukhdev Vihar. It would not have changed my lifestyle", he smiled. 
About Rahul Gandhi, Vadra said: "Rahul and I have similar passions. We go cycling together. I need a partner to circle 50-60 km, sometimes Rahul comes along. Sometimes, we go to the gym together." 
"But I don't interfere in his politics and he doesn't interfere in my business", Vadra said. "I don't tell him who to include in his team and he does not tell me who to hire. I know my business and he knows his." 
Vadra admitted, politics often figures in dinner table conversations at home. 
"It's natural. The children see their Mamu and their Nani on TV. So we talk about it. We talk about a lot of things with the children at the dinner table including business. The children have a sense of the family history but in a normal way. We don't want them to feel that they are better than others. We want them to know that 'you are not special, that you are like everybody else'." 
Vadra said his children were free to choose politics as a career. "I see actors whose children become actors. If politics is in their blood, they will go to it", he said.  But son Raihan, 10, wants to be a soccer player and daughter Miraya, 8, wants to be a 'cook'", said the doting father.