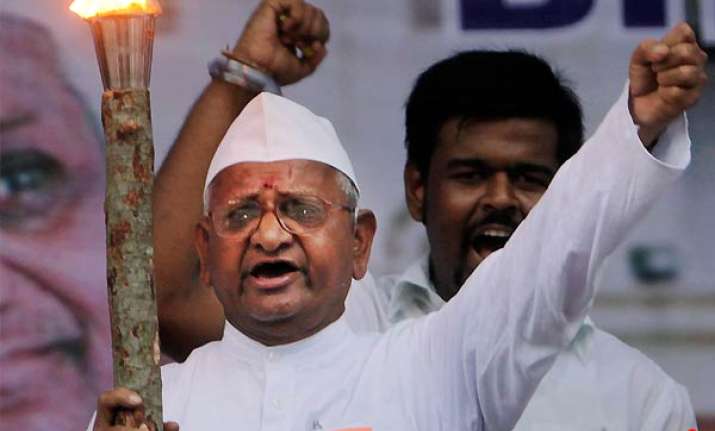 New Delhi, Aug 10: A bitter-looking Anna Hazare on Tuesday plainly said that he was ready to face the government squarely over the Lokpal issue.

Asked by a reporter whether government was making him a target, Anna Hazare replied: "Let them make me the target. Banao Nishaana. I am ready to die (Hum marne ke liye taiyar hain)."

Asked about the place where he would sit for his  fast unto death, Hazare said: "If they can't give us space to sit, we will have at least some space in jail."

Hazare and his supporters are going to sit on indefinite fast  from August 16 in Delhi.

"This government", said Hazare, "is misleading the people by  coming forward with a useless bill. There is so much widespread corruption throughout the country, but the government bill does not attempt to deal with it at all."

"Kya humein shauq hai andolan karne ka, anshan par baithne ka (Are we sitting on fast or agitation just for fun?)", asked Hazare.

The veteran Gandhian said, Kapil Sibal has clearly stated government's path is different from that of the civil society's path. "So whatever you may want to ask, please ask Kapil Sibal", said Hazare.

Hazare refused to comment on Delhi Police lathicharge on BJP youth activists on Tuesday saying it was a political issue, but added: "It shows this government has no will power to eradicate corruption."

Hazare's close aide Arvind Kejriwal said, Delhi Police is yet to assign them a place to sit on fast.

"We have asked them for a place anywhere in central Delhi which is well-connected. Police is telling us they can  assign a place only for 3 days. Now, how can the police decide how long we will sit on fast? They had proposed a place near Samta Sthal, but the CPWD refused to give that spot."

Kejriwal said, today's deposition before the Parliamentary Standing Committee would be futile because the committee only has the government draft before it. "It is merely a formality".

"There is no way out left except to sit on indefinite fast", said Kejriwal.