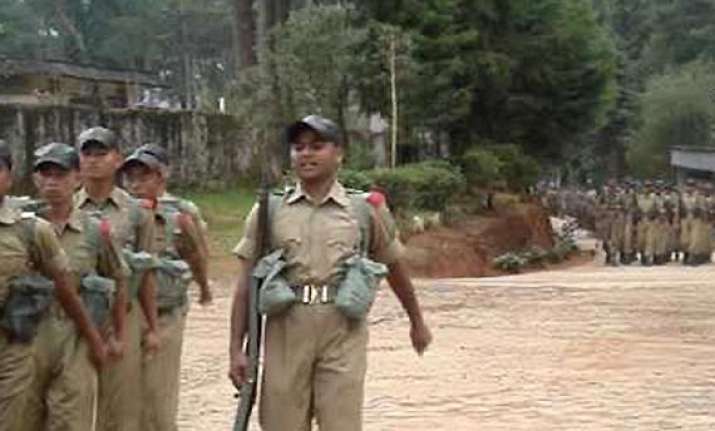 Shillong, June 3: A Meghalaya police officer who escaped police custody after being held on suspicion of raping two minor girls is still on the run, and efforts are on to nab him, police said Monday.
Nurul Islam, who was in charge of the Ampati police station, was arrested Saturday on charges of raping two sisters. He escaped from police custody Sunday from Tura, the district headquarters town of West Garo Hills.
"His whereabouts are unknown. He has gone into hiding, but a search operation has been launched to trace Islam," Inspector General of Police (Western Range) H. Hongpluh told IANS.
On Sunday, Islam was shifted from Ampati to Tura after angry people gathered in front of the police station.
"We have alerted all police stations across the state and in neighbouring Assam to nab the fleeing cop," he added.
Ampati, the assembly constituency of Chief Minister Mukul Sangma, is about 375 km from the state capital.
Meanwhile, condemning the heinous rape of two minor girls, Meghalaya's first woman home minister, Roshan Warjri said: "I have ordered a high-level inquiry by Inspector General of Police H. Nongpluh into the alleged rape incident and the escape of Islam from custody."
"The police officer (Islam) in question has been placed under suspension, while another sub-inspector, Pyniarborlang Lynshiang, who escorted Islam, has also been placed under suspension for dereliction of duty," Warjri said.
Islam had allegedly raped a 14-year-old girl inside the Ampati police station March 13. Later on March 31, he raped her sister, 17, at gun point, in their house.
The officer had threatened to kill both the girls if they dared inform anyone.
"Islam had not only threatened to kill them, but also to implicate them in criminal cases," said Ram Singh, the district magistrate of South West Garo Hills.
Singh said the district administration has released an interim compensation of Rs.50,000 each to both the girls.
Meanwhile, Garo Hills-based civil society groups, including the Garo Students' Union, has condemned the incident and called for a dawn-to-dusk non-cooperation movement in the entire South-West Garo Hills district June 6 and 7 to protest the rise in cases of rape against women and the minor girls in the district.