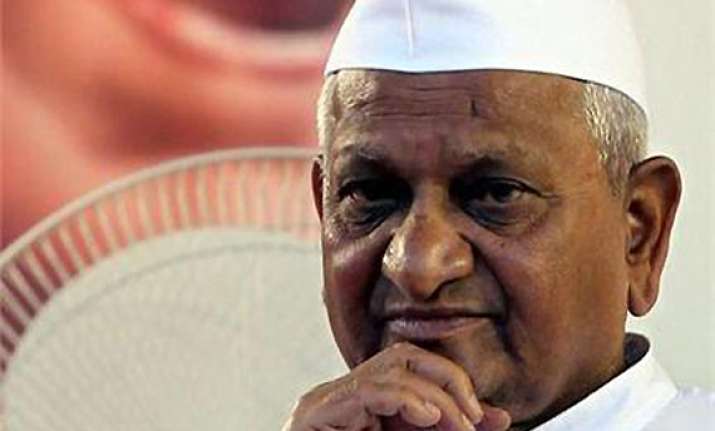 Mumbai, Dec 25: The MMRDA ground at suburban Bandra-Kurla Complex awaits the arrival of Anna Hazare, who will be reaching here tomorrow for his three-day protest fast after visiting the Sant Dnyaneshwar Samadhi en route.

"Anna will leave Ralegan Siddhi tomorrow at 1 pm for Mumbai by road. On the way he would visit Sant Dnyaneshwar Samadhi at Alandi near Pune. He will later reach Mumbai and halt at the state government guest house near the sea-link in Bandra," his associate Datta Awari told PTI over phone.

The 48,000 square metres Mumbai Metropolitan Region Development Authority (MMRDA) ground has a capacity to accommodate over 60,000 people. However, it will be renting out 20,000 square metres for the rally and 10,000 square metres for parking.

MMRDA has specified December 26 for pandal erection and December 30 for its removal. Team Anna has paid Rs 7.78 lakh as rent and Rs 5.29 lakh as security deposit for the rally.

Preparations for the event are in full swing. IAC sources said that at the venue, a room attached with toilet will be provided to Hazare, along with a cot and continuous supply of hot water. The Gandhian has caught cold and is convalescing at his village.

IAC volunteer N Srinivas, an architect, will design the stage.

"There will be an invitee room for the Core Committee members and a visitors' room. There will be separate rooms for security, medical and police personnel. Ambulance services will be present 24 hours a day.

"A team of doctors, comprising volunteers, will be present. We will have an information centre, a media room and a registration counter," IAC coordinator Mayank Gandhi said.

Hazare and key members of his team, Arvind Kejriwal and Kiran Bedi, are scheduled to fast with him in Mumbai, while some others will undertake the fast in Delhi.