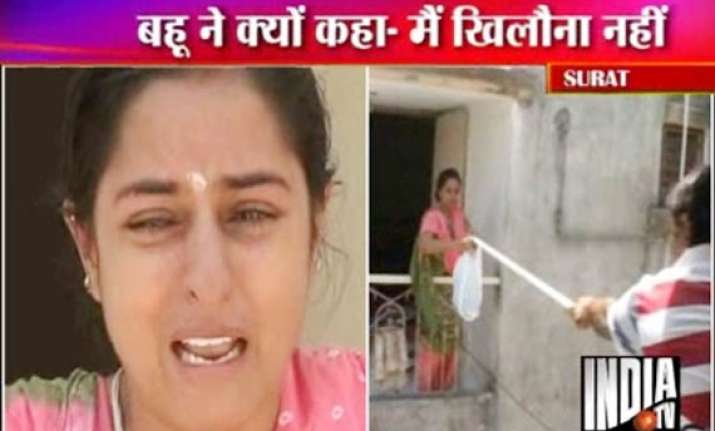 Surat, Jun 13: This is the story of a hapless woman Mayuri locked up in a room for the last two months by her husband and in-laws here.

She is being tortured simply because she has not been able to bear a child. The callousness of her in-laws can be understood from the fact that she is not even being given food and this cruel and inhuman attitude of her in-laws has forced Mayuri to come out in the open and share her predicament with her neighbours and the society at large.

Today if Mayuri is alive then the entire credit goes to her neighbours who are kind enough to provide her with proper food through balcony and with the help of wooden sticks.

Mayuri's room is fitted with CCTV and the neighbours have to ensure that she is not caught on the camera taking food as it could subject her to physical violence.

Mayuri had an arranged marriage with Dharmesh twelve years ago. Dharmesh was from a wealthy family of Surat and lives in a grand bungalow.

Intially everything was going on quite well but when Mayuri failed to conceive, things started moving from bad to worse.

While Mayuri's in-laws hold her responsible for not being able to bear a child, Mayuri retorts by pointing out that it's her husband who is incapable of fathering a child. She categorically states that all her medical reports are normal and therefore she can't be blamed for this.

Her husband and in-laws had thrown her out of their home a number of times in the past but every time they had to take her back because of the intervention by the police and the neighbours.

The police had even arrested her in-laws once but that too could not change their attitude towards her. Mayuri blames her father-in-law, mother -in-law and maternal father-in-law for misguiding her husband who is now hell bent on marrying a woman who is already the mother of a child.

Things have reached such  a stage where Mayuri is deprived of food and is locked up in a room which lacks even a fan in this scorching heat of June.

Mayuri wants to know how could her husband and in-laws treat her like a lifeless toy? Her neighbours have saved her from dying out of starvation but what Mayuri wants is justice at the earliest as justice delayed is nothing short of justice denied.

After India TV telecast Mayuri's travails,  supporters of a women's NGO stormed their flat and shouted slogans. Surat Police has taken Mayuri's husband into custody and have released Mayuri from solitary confinement.