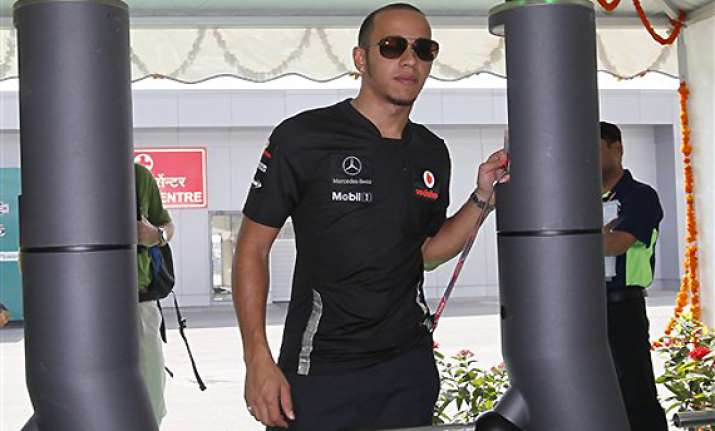 New Delhi, Oct 28: McLaren driver Lewis Hamilton was handed yet another penalty by Formula One stewards on Friday, costing him three grid places for the Indian Grand Prix and adding to his frustration in a year he says can not end soon enough.

Hamilton accepted the blame for his latest transgression -- ignoring yellow flags that warn drivers to slow down in a zone of the track where marshals were retrieving a stricken car.

While he said "I have no one else to blame" for Friday's mistake, there was no disguising his ongoing antagonism toward stewards when he said the incident was "my fault, as usual" and the penalty was "same old, same old."

"I'd love to see how many penalties I've had this year," Hamilton said, before being reminded by a reporter that it was six. "Is that all? It seems much more than that."

That remark echoed the frustration he expressed in Monaco earlier this year, when he described the stewards as a "joke" and said "maybe it's because I'm black", insisting the latter was a light-hearted remark referencing the line used by comedy character Ali G.

While angered by the frequency of his visits to the stewards room, the Briton did not question his latest sanction.

"I went in there and put my hands up and said 'I accept whatever penalty you give'," Hamilton said.

The grid penalty put a sour note on a day that had started so promisingly for Hamilton, who set the fastest lap of any driver in the morning practice session on a dusty and slippery Buddh International Circuit.

He slipped to fourth in the afternoon session, outstripped by the Ferraris of surprise pacesetter Felipe Massa and Fernando Alonso plus world champion Sebastian Vettel of Red Bull.

"It doesn't look like we're the quickest," Hamilton said. "(The penalty) is going to make it very, very tough for us but it's not impossible -- the race is very long, we have two DRS zones, so overtaking is possible."

Hamilton's sporting woes this year had been matched by personal issues, having confirmed this week he had broken up with long-time girlfriend Nicole Scherzinger of the pop group Pussycat Dolls.

"I've had some issues in racing but then in my personal life as well," Hamilton told the BBC. "I don't think it has been a great year, I am looking forward to next year, that is for sure.

"I am so blessed in life. I have a great job and a fantastic family, it is just a mixture of things. I want to be winning and that is what I am working towards. I won't give up and will keep pushing."

Sauber driver Sergio Perez also received a penalty of three grid places for ignoring yellow flags in the opening session.