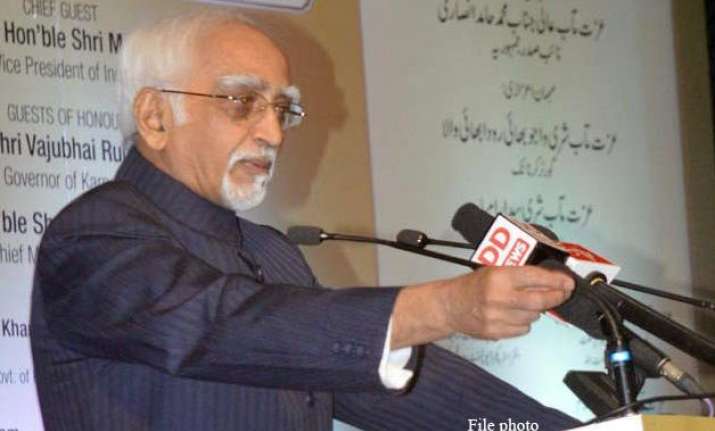 Bengaluru: The already chaotic Bengaluru roads witnessed a grid lock Tuesday when vehicular traffic was blocked to pave way for the convoy of Vice President Hamid Ansari to pass through main thoroughfares for a function, a police official said.
"For security reasons and as per protocol, we had to block vehicular movement for 10-15 minutes on two main roads in the city centre to clear way for the vice president's convoy to reach the venue on the Mysuru road. As a result, vehicles of all types piled up causing grid lock for about 30 minutes in the Majestic area," the official said.
Ansari, who was on a two-day visit to the city to attend public functions since Monday, had to participate in the golden jubilee celebrations of RV College of Engineering on Mysuru road in the city's southwest suburb at 11.30 a.m.
"As the route to the college campus from Raj Bhavan (where Ansari stayed overnight), was through the city centre during peak hour on a working day, we blocked vehicles at a couple of intersections to clear way for allowing his convoy to pass through the area," added the official.
With the main railway station, inter-state bus terminus and the city's bus terminal located in the Majestic area, which is enroute to Mysuru road, main roads were packed with all kinds of vehicles bumper-to-bumper.
"Such grid locks are not new. Whenever we have VVIP movements across the city, vehicles are stopped at intersections and traffic signals to clear roads for their convoy to pass through quickly," the official added, denying that there were traffic jams during Ansari's visit, as vehicles were allowed to use alternate roads.
When Ansari landed on Monday afternoon at the old HAL airport in the eastern suburb and drove to northeast suburb to participate in the silver jubilee celebrations of the Jawaharlal Nehru Centre for Advanced Science Research at Jakkur, hundred of vehicles were blocked enroute in sequence for 10-15 minutes for free passage to his convoy.