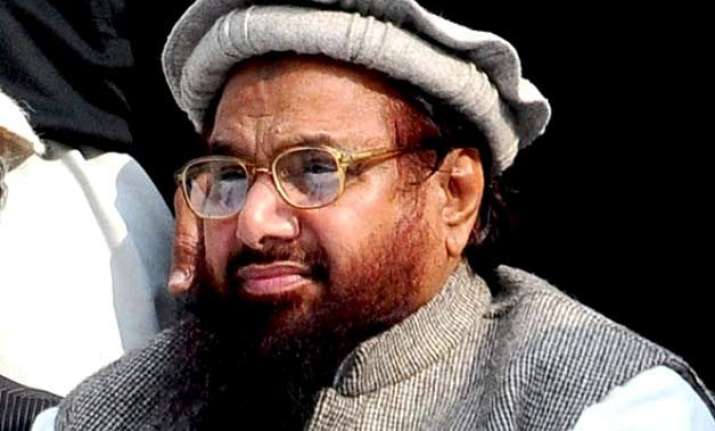 New Delhi: India's most wanted terrorist Hafiz Saeed, who is actively involved in spewing venom against India, was seen at border once again. In last three weeks, he was sighted six times in the border area.
Intelligence agencies said that Sayeed is the man behind spurt in terror activities in last fifteen days in the Valley.READ MORE
Security agencies informed that yesterday's attacks in which three policemen were gunned down and a policeman and a former militant were left critically injured, was a part of Sayeed's strategy. This was another major strike in the Valley since the Mufti Mohammad Sayeed government came to power in March.
The Intelligence Bureau and RAW have issued alerts about possible terror attacks in major cities. Sources said that terrorists are planning to carry out 'fidayeen' attacks outside of Jammu and Kashmir. The border state has witnessed a series of terrorist attacks in last one month.
On Sunday, the IB had issued a specific alert to Delhi Police about Pakistan based terror outfit Jaish-e-Mohammad (JeM) planning to carry out Samba-like 'fidayeen' attack in the city.
READ MORE: Three policemen shot dead in militant attack in Jammu and Kashmir's Shopian
Praful Bakshi, defence expert, said, "This is the impact of melting ice in the Valley, he was waiting for the same. With the help of sleeper cell he is now targeting police personnel fearlessly."
Another defence expert, Lieutenant General (retd.) Raj Kadyan, said, "Militancy in the region is backed by Pakistan. It is difficult to stop this until Pakistan decided to stop aiding terrorists. Pakistan assists them physiologicaly and also supply firearms and ammunitions."
Intelligence reports also suggested that Sayeed kept his recent visits to terror camps and bordered villages a low. Pakistani spy agency ISI is aiding terror attacks aimed at creating commotion within India.
ALSO READ: IB warns of Samba-like 'fidayeen attack' in Delhi
Few months back a fresh group of more than 60 terrorists were formed in which maximum are home grown terrorists including fedayeen. They are trained in terror camps of POK and are aware of terrain and border area, intelligence reports said.
Reports also indicated that Sayeed has secretly planned to target government machineries.
Sources in Ministry of Home Affairs (MHA) claimed that they are aware of each movements along border areas.
Saeed is a major irritant in the already strained relationship between India and Pakistan as New Delhi has expressed its resentment over his not being brought to book for the Mumbai attack.
He runs the Lahore-based Jamaat-ud-Dawa (JuD), which he claims to be running for humanitarian charity. The JuD has been blacklisted by the US, which has described it as a foreign terrorist organisation.