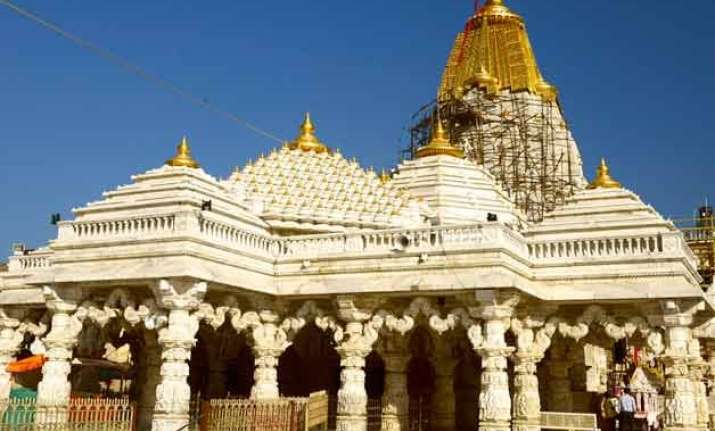 Palanpur (Gujarat): Gujarat's famous Ambaji temple trust today received 1.25 kg of gold worth Rs 25.30 lakh for plating its spire, a temple administrator said. 
"An Ahmedabad-based devotee and his family donated 1.25 kg of gold for plating the temple's spire today," said Ghanshyam Barhmbhatt, temple administrator of the Shree Aarasuri Ambaji Mata Devasthan Trust in Banskantha district. 
Brahmbhatt said an Ahmedabad-based builder had pledged to donate 25 kg gold for plating the spire of the Ambaji temple. So far he had donated 20 kg of gold, he said. 
However, temple authorities did not give names of donors stating that they cannot reveal the names of devotees and some of them want to remain silent donors. 
According to Ambaji temple authorities, so far 80 kg of gold has been received for spire plating. 
"Project to gold plate the spire of Ambaji temple has so far received about 80 kg gold, including 1.25 kg of gold we received today," Banaskantha district based Shree Aarasuri Ambaji Mata Devasthan Trust's inspector Satish Gadhvi said. 
"A good quantity of gold is needed to plate the spire. 75 per cent of plating work has been completed and 76 kg of gold has been used," Gadhvi said. "We are soon going to buy more.