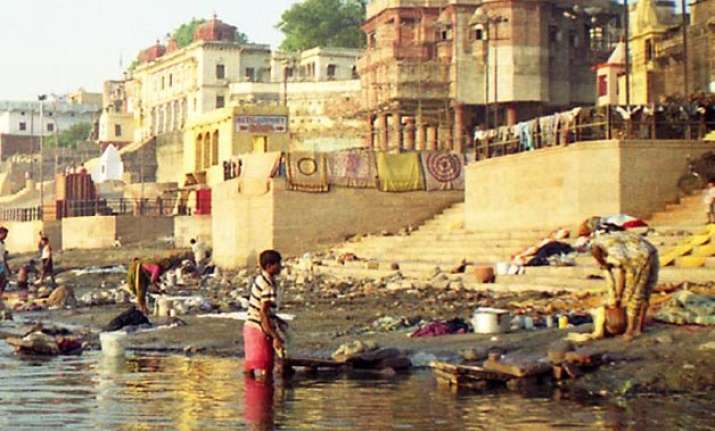 New Delhi: The National Green Tribunal came down heavily upon the centre and Uttar Pradesh government over their failure to clean river Ganga in Varanasi saying their slogans are contrary to actions.
The Green panel made the scathing remark after pictures of floating dead bodies were shown to the judges on behalf of a lawyer, who said no action is being taken to stop human and animal corpses from being left in the Ganga.
"It is really very unfortunate that such things are going on. Why don't you do something about this? Your slogans are very contrary to your actions," a bench headed by NGT chairperson Swatanter Kumar said.
The NGT has asked them to reply by January 27 on who should be held accountable for the increasing pollution in the river in Varanasi.  
Over 3,000 human bodies are immersed into the holy river just in Varanasi, every year, for salvation.
These corpses float by as daily prayers, bathing, cooking and washing go on unabated on the river ghats.
Around 6,000 dead cattle are also reportedly dumped in the river each year.
NGT also argued that Ganga cannot be clean until disposing of bodies is banned
Court also dismissed the state and Centre's claim that local officials are to blame.
Last week, the Bench had directed the Governments of UP and Uttarakhand to identify seriously polluting industries located on the banks of Ganga and apprise it about "quantity and quality" of discharge generated by them in the river.
Earlier, the tribunal had directed the Centre not to release funds for cleaning the river from Gomukh to Kanpur without its nod, chiding the two States for failing to identify the "seriously" polluting locations.
In October, The green panel had asked the government to name one place where Ganga was clean and said that despite spending huge sums, the situation has gone from bad to worse.
"Would you please tell us that is it correct that more than Rs 5,000 crore has been spent on Ganga in making it worse from bad.Out of the 2,500 km stretch of the river Ganga, tell us one place, where the condition of the river has improved," a bench headed by NGT Chairperson Justice Swatanter Kumar had asked.
Ganga flowing down from the Himalayas to the Bay of Bengal is full of industrial effluent and untreated sewage and its banks strewn with garbage.
In several hearings in the past, the Supreme Court had been highly critical of the plans of the Government to restore the river.