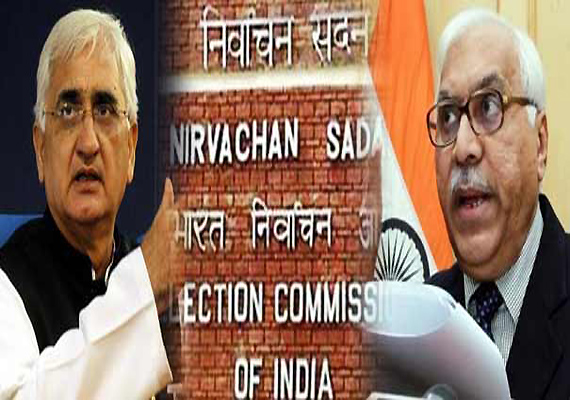 New Delhi, Feb 21: Government today dismissed as "totally mischievous" reports that it was considering a move to give statutory backing to the Model Code of Conduct (MCC), a move that would take away its enforcement from Election Commission (EC) to courts.

"The contents of the report are totally misconceived as there is no such move under contemplation of the Government or the Group of Ministers," the Department of Personnel said in an official release.

The DoPT was reacting to reports that the Group of Ministers on corruption was going to consider giving a statutory backing to the MCC at its meeting tomorrow. 

"The GoM has not made any recommendation to make the MCC statutory or to take it outside the purview of the Commission," the DoPT said.

The release recalled that the news reports said that the Government has started working on giving the MCC a statutory backing and that if it is successful, complaints pertaining to code violations will go out of the purview of the EC. 

The report also indicated that the Union Legislative Secretary has been asked to make a presentation before the GoM on Corruption at its meeting scheduled to be held tomorrow on the issue of giving statutory shape to executive instructions issued by the EC and that such a statutory backing means the code violations would be covered by law and hence be tried in a court rather than being left to the discretion of the EC, as is the case now.

The DoPT clarified that the "State Funding of Elections" is one of the mandates given to the GoM on Corruption under its terms of reference.

"The subject has, accordingly, been receiving the attention of the GoM at its deliberations from time to time and the Legislative Department of Law Ministry has been updating the GoM on the several initiatives taken by that Ministry and by the Election Commission on issue of State funding of elections along with other electoral reforms," it said.

The GoM, in its last meeting held on September 30, 2011 considered a presentation made by the Secretary, Legislative Department on the viability of various alternatives on the question of State funding of Elections.

In the course of discussions, incidental references were made to the issue of "Code of Conduct".

The presentation also highlighted the fact that the Legislative Department, along with the EC, had conducted seven regional consultations across the country, inter alia, with the political parties and sought guidance of the GoM for further course of action.

The GoM had directed the Legislative Department to bring out specific proposals, as regards State funding of Elections, for consideration and decision of the GoM, excluding such areas where consultation with political parties was required, the release recalled.