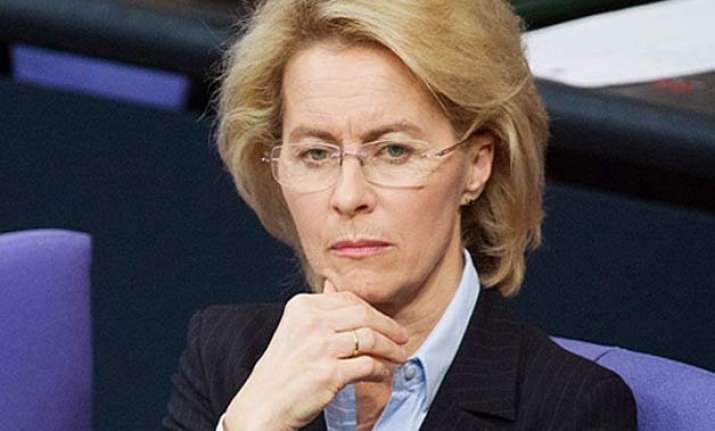 New Delhi:  German Defence Minister Ursula von der Leyen will arrive here tomorrow on a three-day visit during which she will seek to deepen bilateral ties, besides focussing on regional and international security and defence issues.
During the first leg of her trip, Leyen will hold bilateral talks with her counterpart Manohar Parrikar here.  She will also call on Prime Minister Narendra Modi and meet Deputy Congress Leader in Rajya Sabha Anand Sharma.  
The Minister will also visit the Army Research and Referral Hospital, the flagship medical unit of the Armed Forces Medical Services here.
She will also visit the Western Naval Command in Mumbai and hold talks with Flag Officer Commanding-in-Chief, Vice Admiral S P Singh Cheema, and tour the Indian Navy ship INS Mumbai.
From Mumbai, on May 28, Leyen will proceed to Singapore where she will participate in the Shangri-La Asia Security Summit.
Ahead of her visit, German Ambassador to India Michael Steiner, said, "Prime Minister Narendra Modi's visit to Germany in April has given a new impetus to Indo-German relations.
"Leyen's visit will be a further boost for our strategic partnership at all levels".
In October, Chancellor Angela Merkel will visit India for the next round of Intergovernmental Consultations chaired by the two government heads.