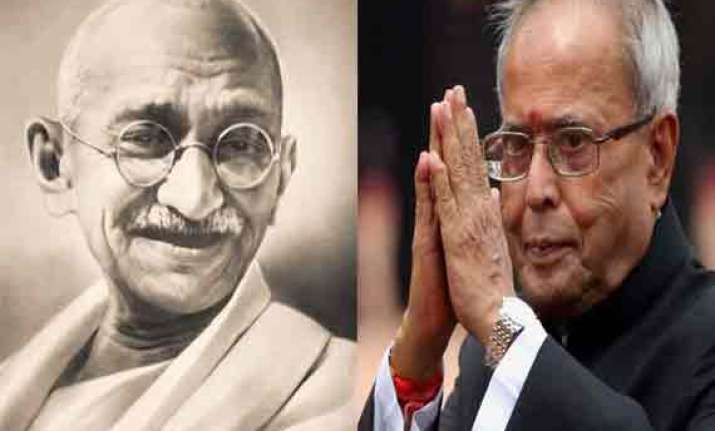 New Delhi:  Mahatma Gandhi's ideals not only held our past but will guide our future too, President Pranab Mukherjee said today as he conferred the Gandhi Peace prize on noted environmentalist-social worker Chandi Prasad Bhatt here.  
The President, during the event held at Rashtrapati Bhavan, said the prize was an expression of "our belief that the ideals Gandhiji espoused are part of our collective living heritage.
"This heritage is deeply imbued with the idea of being 'one people.' It is a celebration of our diversity, our plural culture, our many languages, religions and different modes of life.
"This was the idea that moved those who strove for India's freedom. Our deep and abiding commitment to democracy stems from this idea. We continue to be guided by these ideals. We remain committed to them not because it is our past but because it is also our future," he said. 
The Gandhi Peace Prize was instituted by the government in 1995 on the occasion of the 125th birth anniversary of Mahatma Gandhi.
The President said "we must always keep in mind that we are the trustees of the heritage of Mahatma Gandhi.  "As Trustees, it is our sacred duty to preserve, protect and disseminate this heritage which is truly a legacy of all humanity. In honouring Shri Bhatt, we honour all those countless women and men who became trustees of the nature and who through their embrace expanded our Swaraj," Mukherjee said.
Praising the 80-year-old Gandhian stalwart for his dedicated, tireless and invaluable work for conservation of environment, the President said his life has been his message.
 "The Chipko movement started by him (Bhatt) in 1973 followed the same method of peaceful and non-violent Satyagraha for the redressal of the legitimate rights of the hill people to collect wood and fodder and saving them from natural calamities owing to largescale deforestation.  
"It highlights the unique responsibility of protecting creation that has been placed on human beings. The Chipko movement was and continues to be a movement of deep love. Love as enacted in the act of hugging trees. This action meant embracing nature in all its diversity, bounty and munificence," he said.