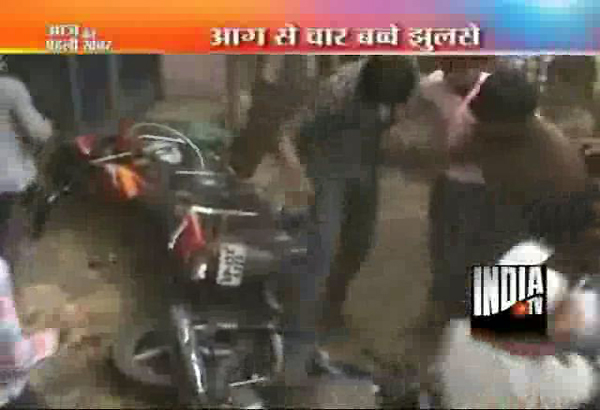 Meerut, Feb 15: A scrap dealer trying to cut the metallic body of an old petrol tanker with oxy-acytelene  gas cutter caused a blast followed by a fire engulfing three other tankers on Tuesday evening, causing severe burn injuries to four children.

A local mob in Sadar Bazar's Maccheran locality then went on a wild spree, stoning the tankers and a JCB machine.

The mob also stoned a Fire brigade vehicle and a police jeep as both police and fire brigade arrived late on the spot.

The mob ransacked the house of the scrap trader Umar Daraz and damaged his vehicle and JCB machine.

A large contingent of police arrived to contol the situation. All the four injured children Faizal, Shariq, Somiyan, Arif  have been admitted to P L Sharma District Hospital here.

The fire caused damage to three other tankers in the vicinity.