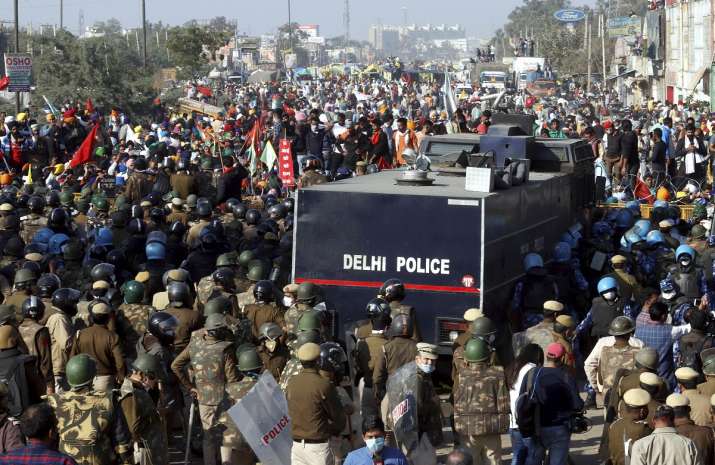 Thousands of farmers protesting the Centre's new agri laws stayed put at the Singhu and Tikri border points for the third consecutive day on Saturday amid heavy police presence even after being offered a north Delhi ground to hold peaceful demonstrations. Farmers gathered at border points have decided to stay put on Saturday night as they have called a crucial meeting on Sunday to decide their next course of action.
"Today, we held a meeting and it was decided that we will stay put (Singhu border). Tomorrow, there will be another meeting at 11 am and till then, we are at the Singhu border," Baljeet Singh Mahal, Jalandhar's unit president of Bhartiya Kisan Union Kadia, said.
Numbers swelled at the Singhu border point as farmers gathered there were joined by more counterparts from Punjab and Haryana and they refused to move towards the Sant Nirankari Ground, one of the biggest in the national capital. Protesting farmers also got support from their counterparts from Uttar Pradesh, who gathered at the Ghazipur border with their vehicles on Saturday afternoon.
Earlier in the day, Joint Commissioner of Police (Northern range) Surender Singh Yadav, who took stock of security arrangements at the Singhu border, told reporters that around 600 to 700 farmers have so far reached the north Delhi ground. Yadav said police and administration have made sufficient arrangements for the farmers at the designated protest site, adding that he hoped more would go there.
On Saturday morning, protesting farmers from Punjab and Haryana gathered at the Singhu border, one of the main routes used to access the city from Punjab, held a meeting to decide their next course of action.
On Friday, hundreds of farmers entered the national capital to hold a peaceful protest at the Sant Nirankari Ground after facing teargas and water cannons and clashing with security personnel while thousands remained at border points, undecided whether to go to the demonstration site identified by police.