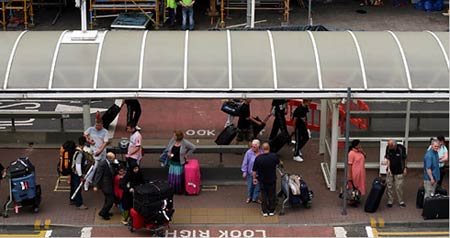 London, Nov 4 :  Parts of Glasgow Airport were evacuated late Wednesday after a suspicious package was found in the departures security area, but the incident turned out to be a false alarm, police said.
The package was discovered by staff at about 7:55 p.m. and the army bomb disposal unit was called in, a Strathclyde Police spokeswoman said. Governments tightened aviation security earlier this week after two U.S.-bound bombs sent in air cargo from Yemen were intercepted in Dubai and Britain. 
 Earlier Wednesday, Greece suspended overseas shipment of mail and packages for 48 hours after dozens of small parcel bombs were sent to foreign governments and embassies this week.  
Glasgow is Scotland's main long-haul hub and handles around 8 million passengers a year, according to its website.
The airport was partially evacuated after the discovery of a suspicious item, British police said, amid heightened concern for aviation security after the Yemen parcel bomb plot.  
 Police "can confirm that at 19:55 hours (1955 GMT) security staff at Glasgow airport became aware of an item which they deemed to be suspicious in nature," a local police spokeswoman told AFP.  
 "As a precaution parts of the airport have been evacuated."  A spokesman for Glasgow airport said the airport was still open but could not process passengers for departure.  
 "A suspect package was found in the search area. Because it is in the search area, we can no longer process passengers for their departures," the spokesman was cited as saying by the BBC.   
"We are still accepting flights as normal. We are not closed but we have cordoned off that area until the police say it is safe."   
Glasgow airport, in southwest Scotland, was the target of a failed terror attack in June 2007, when a flaming car was driven into the main terminal building.  Two men were in the car. One later died of his injuries and the second was jailed for his role in the attack.