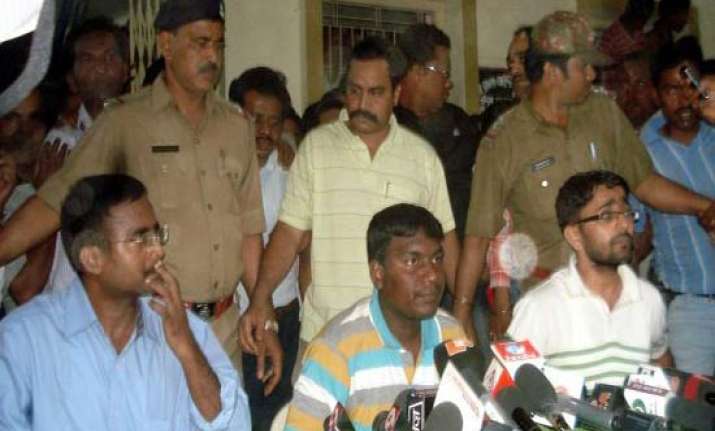 Bhubaneswar, Feb 23 : In a new twist complicating the hostage crisis, Maoists tonight demanded that five key Naxals be freed immediately in return for quick release of Malkangiri district collector R V Krishna even as they set free abducted junior engineer Pabitra Majhi.
The fresh demand after the Orissa government conceded all the 14 demands yesterday took the Maoist-chosen mediators by surprise with one of them Prof G Hargopal observing it "complicates" the matter. The mediators said yesterday the two men taken captive on February 16 will be freed in 48 hours.
"We as mediators are surprised. We did not expect additional demand will come up," a shocked G Hargopal said,adding, "We appeal to them (abductors) to free the collector by 6 PM tomorrow evening."
While Naxal leader Ganti Prasadam was granted bail earlier in the day by Orissa High Court, the abductors demanded that five others including Sriramulu Srinivasulu and
Padma, wife of a top rebel, be also freed from jail immediately, official sources said. The state government had not objected to grant of bail for Prasadam.
The abductors also expressed their intention to free the collector in public in the presence of three Maoist-chosen mediators who held talks with Orissa government, Swami Agnivesh and project director of District Rural Development Agency (DRDA), Malkangiri after the release of top naxals named by them, sources said.
Expressing shock over the new demand, Ganti Prasadam,Hargopal and Maoist ideologue Varavara Rao made a joint appeal to the ultras to release Krishna within 24 hours by tomorrow evening. Hargopal said the new demand "complicates" the hostage situation.
Hargopal said Orissa government has agreed to release Srinivasalu, who has already got bail in a case, but he has to be sent to Andhra Pradesh as there are cases against him in that state and the issue is beyond Orissa government purview.Regarding Ganti Prasadam, Padma and others, Orissa government has agreed to withdraw cases against them, he said.
On Agnivesh, the mediator said it would not be possible to involve him at this stage.The condition laid by the abductors was conveyed to Malkangiri district administration in a letter sent through Majhi, they said. Malkangiri is about 650 km from here.
Hargopal said the new issue raised by naxals was beyond the purview of Orissa government, he said, adding, the appeal was being aired through radio in English and Telugu as Maoists listen to radio regularly.The High Court had  granted bail to Ganti Prasadam,whose release is among the conditions set by Naxals for the safe return of Krishna and Majhi.
22-year-old Majhi was set free even as Maoist-chosen mediators and the Orissa government held discussions on the modalities to implement the 14 demands set by Naxals and accepted by the state government in exchange for the release of the two abducted men.
"Majhi was taken by local villagers on a motor-cycle to Chitrakonda after being released by the Maoists in a remote forest in Malkangiri," Chitrakonda Tehsildar D Gopal Krishna said over phone. Majhi said Krishna was "fine and being treated well". PTI