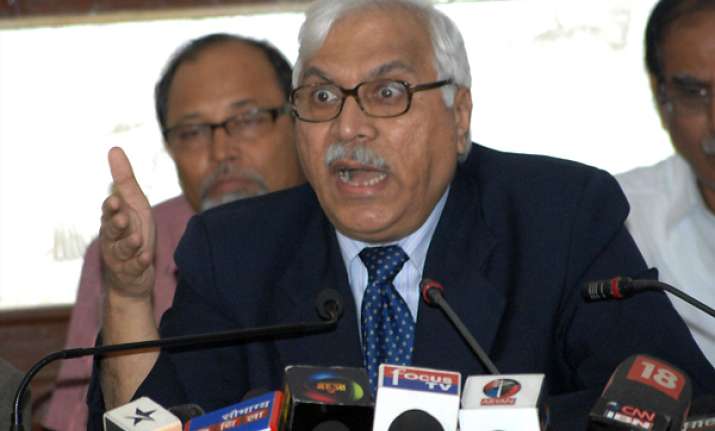 New Delhi, Mar 18: The Election Commission has decided to withdraw its proposal for setting up an autonomous body for imparting electoral training to professionals within and outside the country as it gives "no additional benefit".

In a letter to Prime Minister Manmohan Singh, Chief Election Commissioner S Y Quraishi, while noting the government's support to India International Institute of Democracy & Election Management (IIDEM), said that the proposal for establishing an independent autonomous society for it be withdrawn.

"...The Commission has decided to request the Government to treat the Commission's proposal for creation of an autonomous society for IIDEM as withdrawn," Quraishi said in his letter.

He said that the EC had taken a fresh look at its proposal to register IIDEM as a 'society' under the Societies Registration Act, 1860 after recent consultations with Department of Expenditure and feedback from Ministry of Law and Justice.

"...The Commission has considered that there is no additional benefit, rather there is a potential for operational constraints for the fledgling institute if it is made into a society," the CEC said.

The proposed setting up of IIDEM as an independent autonomous body had raked up a controversy, with Law Minister Salman Khurshid, who had opposed it, and Chief Election Commissioner S Y Quraishi involved in a face-off on the issue.

Khurshid had earlier shot down a proposal of the poll panel to grant independent status to the IIDEM and Quraishi had taken strong objection to the rejection by the Law Ministry.

The relations between Khurshid and Quraishi were further strained after the former claimed that the Law Ministry has control over the Election Commission to the extent that it accords sanction for foreign travel of the Election Commissioners.

As Khurshid ruffled feathers by saying his Ministry has administrative control over Election Commission, Prime Minister Manmohan Singh had to assure the poll body that the government respected its constitutional status and functional autonomy.

Quraishi had written to the Prime Minister after Khurshid made his controversial remarks.

Writing back to Quraishi on January 5 this year, the Prime Minister has said, "Let me assure you that our government is fully committed to uphold the functional autonomy that the Constitution guarantees to the Election Commission."

In his letter to the Prime Minister on IIDEM issue, the Chief Election Commissioner has said, "...allocation of adequate funds by the Ministry of Finance, with suitable budgetary provisions, has been a significant contribution. The Commission is grateful to the government."

"...IIDEM, functioning at present as part of the training division of ECI, has gone from strength to strength in a short time. Its activities have taken place smoothly and at an optimum pace. We are deeply encouraged by the progress made by IIDEM in meeting its objectives as an important activity of Election Commission of India itself," the CEC said.