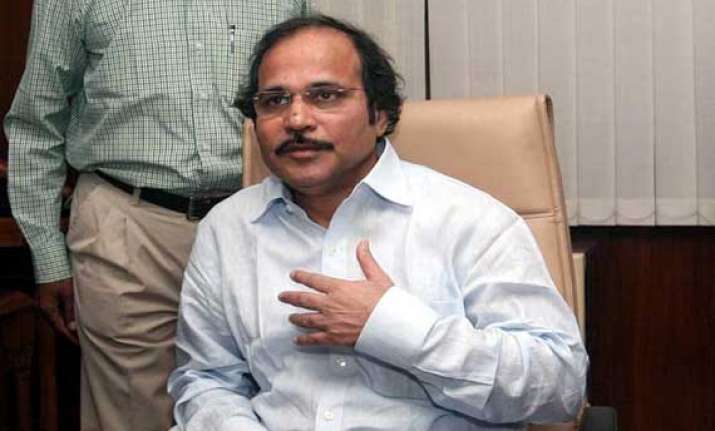 Beharampore (WB): Congress nominee from Beharampore Lok Sabha constituency Adhir Chowdhury today courted controversy by terming the Election Commission observers as "toothless tigers" and said his party's confidence in the EC officials had been 'demolished'.  
"You are all toothless tigers," Chowdhury, who is the Minister of State for Railways and state Congress president, told a EC-appointed police observer at Rejinagar following a clash between Congress and Trinamool Congress supporters.  The Beharampore constituency goes to the polls tomorrow in the fifth and final phase of the Lok Sabha elections in West Bengal.
Chowdhury, whose vehicle was allegedly blocked by a group of TMC supporters, was heard telling Congress party workers to take up sticks and stock bricks in resistance.  A livid Chowdhury, who is a very powerful leader in Murshidabad district in which the Beharampore constituency falls, told his party workers, "You can't expect me to take you in my arms and go around. If you can't resist on your own, then you don't need to be in Congress. You must resist and take up sticks and stock bricks on rooftops. Go to jail if you have to."
There were allegations that ruling TMC supporters beat up Congress workers with sticks and were forced to remove a blockade set up at Rejinagar by the latter.  Cautioned by the accompanying police observer that he was aggravating the situation, Chowdhury retorted, "No, I am not, you can see what happened. If so, you can arrest me and put me in jail."
When reminded by the police observer that he was a Union minister and was respected, Chowdhury said, "I don't want your respect. You are all toothless tigers. All our confidence has been demolished totally." The state Congress has filed a complaint with the Chief Electoral Officer Sunil Gupta and the EC-appointed special observer for West Bengal Sudhir Kumar Rakesh in this regard.  
Meanwhile, TMC candidate for Beharampore Indranil Sen has also complained of being manhandled by Congress activists.  "This is not how elections are fought. If Adhir Chowdhury thinks he can win the elections by resorting to violence, he is mistaken," Sen, with his left hand in a sling, told newspersons here.