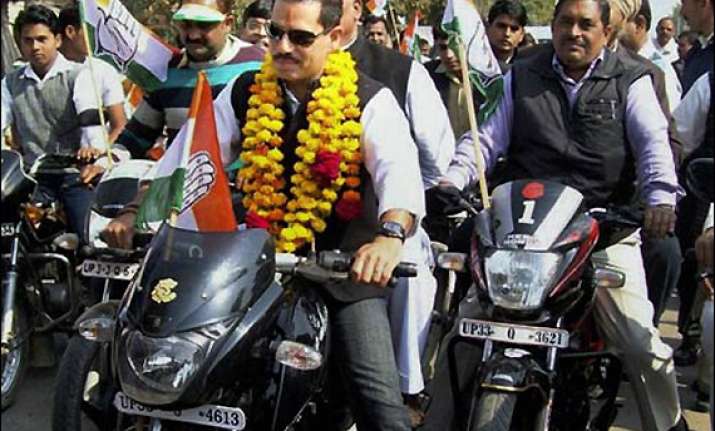 New Delhi, Feb 7: In a flip-flop, the Election Commission first transferred from Amethi a poll observer who had taken on Priyanka Gandhi's husband Robert Vadra, then put it on hold and finally scrapped it within 24 hours, opting for another IAS officer in his place as District Collector of South Goa.

The Amethi poll observer Pawan Kumar Sain, an IAS officer of the 2005 batch of Goa state cadre, stirred a controversy yesterday by halting Vadra's convoy for alleged violation of model code and recommended an FIR against the Amethi Congress nominee for whom he was campaigning.

The Commission, which had transferred Sain yesterday as District Collector of South Goa, initially kept it on hold till polling was over in Amethi on February 19.

The EC finally dropped the idea today and decided to recommend Daulat A Havaldar, in his place.

In the face of criticism, the election body clarified that its action to move Sain to Goa was taken earlier and not linked to the Vadra episode.

Sain will now continue as election observer in Amethi of poll-bound Uttar Pradesh till the election process is over in the state.

The Commission today said it has come across some "unwarranted references" regarding its decision to re-deploy Sen and maintained that "it has been baselessly linked to certain enforcement action taken by Sen in his capacity as an election observer in an incident involving Vadra in an assembly constituency in Chatrapati Shivaji Maharaj (CSM) Nagar.

"The officer acted in accordance with the law and fully in conformity with the instructions of ECI. The decision to post Sen as District Election Officer in South Goa was in process for a week, based on the need to replace the present DEO in that district," the EC said.