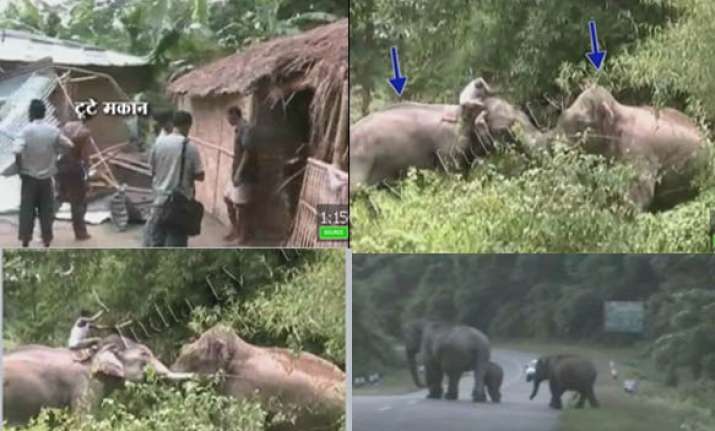 Golaghat, Assam, June 19: A wild tusker created a ruckus presumably after consuming liquor at a local liquor den in Pathorigaon in Golaghat district of Assam on Sunday, reports India TV reporter Bikash Kumar Sharma.

The elephant ran amuck in Laktheygaon near Kaziranga, when a herd of elephants which
strayed in from the sanctuary began returning. The elephant, aged 8 to 10 years, stayed
behind and reportedly consumed locally brewed liquor at a liquor den, eyewitnesses said.

The drunk elephant then created a ruckus and damaged several houses.

The villagers informed the forest department and the officials arrived at the scene with 6
trained forest department elephants to control the wild tusker, but the drunk tusker put up a strong resistance and made it very difficult for them to control him.

The villagers burst firecrackers and lit up bonfire to drive away the wild tusker towards the jungle.. And it took approximately 6 hours for the drunk wild tusker to go back to the jungle.

The illegally run liquor den has been sealed after the incident, a forest official said.