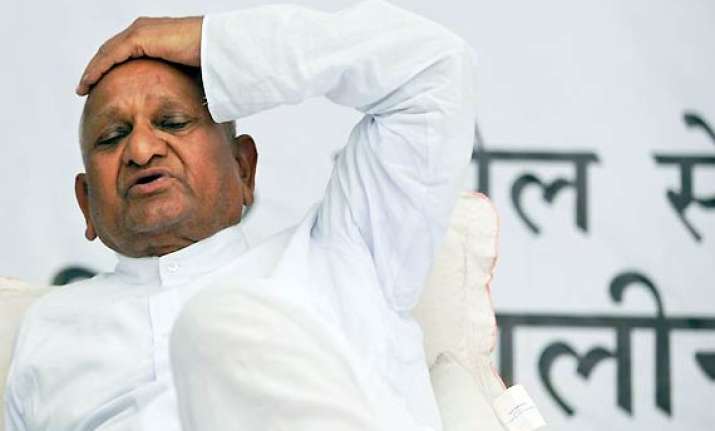 Ralegan Siddhi, Nov 29: Claiming that the draft report on Lokpal Bill by Parliamentary Standing Committee is a "betrayal", Anna Hazare today threatened to go on an indefinite fast in Delhi from December 27 if a strong anti-graft law is not passed in the Winter Session of Parliament. 

Hazare, who also announced that he will sit on a one-day fast in Delhi's Jantar Mantar on December 11 on the issue, sought to put Congress on notice saying he will tour the five poll-bound states and tell electorate how the government was betraying them on the issue.

The 74-year-old activist said his indefinite fast will be at Ramlila Maidan in Delhi from December 27 if a strong bill was not passed. If it happens, it will be his third indefinite fast this year on the Lokpal issue.

"The government has assured us that there will be a strong Lokpal bill. We were given an assurance by Parliament.  Now the Standing Committee report is out. When I saw the report, I realised that they have betrayed the countrymen again. Government has committed deceit.  What is strong about this Lokpal Bill? How is it powerfull?" Hazare told reporters here reacting to the draft report which kept Prime Minister, judiciary and lower bureaucracy among other things out of the ambit of Lokpal.  He said people have no option but to hit the streets to protest.

Hazare wondered why NGOs and media were brought under the ambit of Lokpal. "On the one hand, you are including media and NGOs but on the other hand, you do not want the Prime Minister and MPs. This is not fair," he said.

"Why is the Prime Minister afraid of submitting himself to the Lokpal? If you are clean, then there is no need to be scared," he said.

Hazare took exception to the exclusion of lower bureaucracy, judiciary and CBI under the ambit of Lokpal.

On the issue of lower bureaucracy, Hazare said if they are not included in the law, poor people will suffer. "We were demanding that every section, from top to bottom, come under Lokpal. Poor people cannot get their work done without paying bribe," he said.

He said it was very necessary that the anti-corruption wing of CBI be under Lokpal to ensure that there is no interference from the government in its functioning.

"One of the reason for corruption is government interference." Hazare noted that Parliament has passed a resolution saying that lower bureacracy will be included under the ambit of Lokpal besides provisions for Citizen's Charter and setting up Lokayuktas in states.

"Now the Standing Committee says no even after the Prime Minister gives it in writing. What is this government all about? Now there is a change. There is a betrayal...We don't want the government to make a fool of us," he said adding the draft recommendations do not help in tackling corruption. 

He also defended activist Kiran Bedi against whom a case of cheating was registered for alleged misappropriation of funds, saying "truth will remain truth despite the continuous targeting" of the activists.