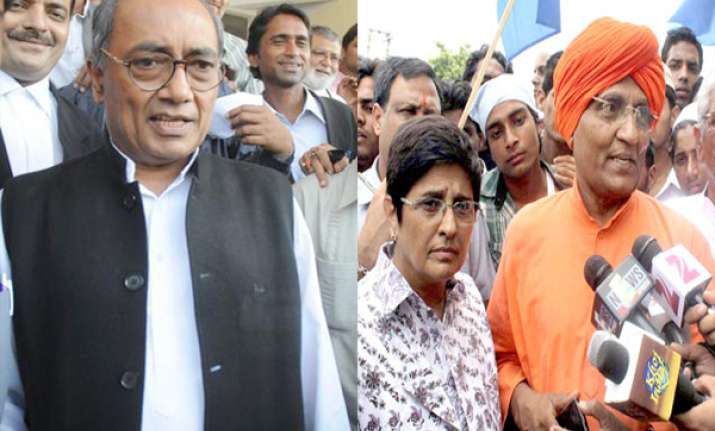 New Delhi, Oct 20: Congress general secretary Digvijay Singh and former Team Anna member Swami Agnivesh today demanded that Kiran Bedi should ask either the police or CBI to probe the earnings made from over-invoicing air tickets by her NGO. 
 
Swami Agnivesh said, misuse of gallantry award discount (75 percent) by misstating facts was a serious issue.
 
"Her argument is not very convincing. I will request her to either file a report with the police or ask the CBI to probe her NGO", said Agnivesh, who himself was

caught on camera secretly talking to Kapil Sibal against Anna Hazare, during the latter's Ramlila Maidan fast.
 
Agnivesh asked Kiran Bedi to submit herself to an independent probe. 'This will certainly enhance her public reputation', he said.
 
He said, investigating agencies should also probe the purpose for which her NGO's funds are being spent.
 
Congress general secretary Digvijay Singh made a brief remark saying that Kiran Bedi should come out with all facts related to over-invoicing of her air travel bills.