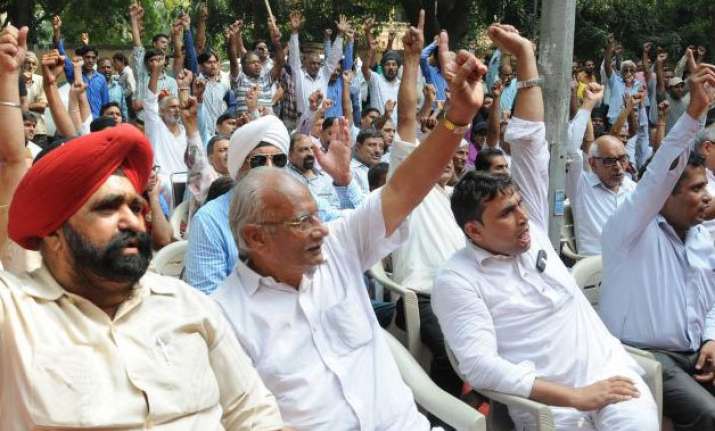 New Delhi: Giving relief to city's trading community, the Delhi government allowed "carry-forward" of refund of VAT (Value-Added Tax) to the next fiscal year and extended the date of filing a mandatory R9 form. The R9 form is an important tax document required to file information related to interstate sale and purchase.
The decision was announced by Deputy Chief Minister Manish Sisodia on Saturday.
Brijesh Goyal, convener of AAP Trader's Cell said, "It was the Congress-led government which had stopped the refund system by introducing a special clause in the VAT rules. But now, the refund will carry forward to the next year. It is a big relief to lakhs of city-based traders."
Uptil now, the traders had to claim the refund before March 31st otherwise the same used to lapse. However, with the new system in place they will be able to open the new financial year with a carry forward of the previous year and execute sales without getting caught in procedural tangles of seeking tax refund.
Another major step taken by the government of extending the date of filing R9 form which is an important tax document required to file information related to interstate sale and purchase is no less a relief for the traders. The details of the same are yet to be furnished online.
Goyal further said, "It is an important form, this is why the government has decided to extend the date of filing the information by June 30. Traders can submit the form for three financial years starting from 2011 by June 30."
Although the traders have admitted that the two developments will benefit them, however, they have still demanded the government to take some more steps to simplify the tax-filing system and revive the Delhi Trade Board, which was formed by the earlier UPA regime for quick redressal of issues related to traders.
As per a report by The Times of India, Praveen Khandelwal, general secretary of Confederation of All India Traders (CAIT) said that the government should take immediate steps to simplify the VAT filing procedure and the VAT refund should also be released on time.
He gave his opinion that ideally it should be released within 29 days of filing the refund.
However, Goyal has said that the government has assured the traders that in the days to come, adequate steps will be taken to simplify the VAT procedure.