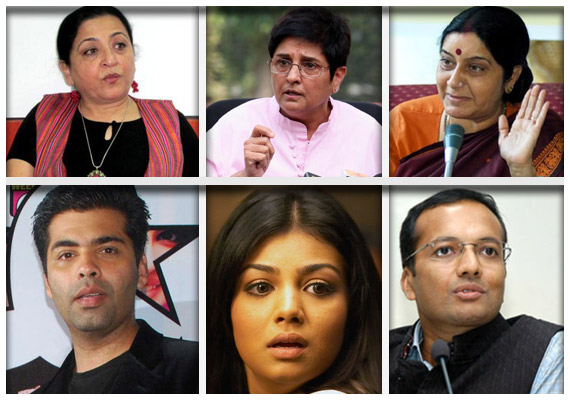 New Delhi/Mumbai: Celebrities, politicians and social activists today took to social media to welcome the Delhi Court pronouncing death sentence to all the four rapists convicted for the gangrape and brutal murder of braveheart girl Damini on December 16.
Madhya Pradesh chief minister Shivraj Singh Chouhan tweeted: "Death sentence for the guilty in Nirbhaya case serves the requirement of justice. It shall act as a deterrence against heinous crimes."
Bhojpuri singer Manoj Tiwary: "I'm very sure now dat v won't hear any more rape incidents happening after dis verdict"
BJP leader Shahnawaz Hussain: "This judgement should serve as a PARADIGM SHIFT in way law is applied & perceived in India-1.Respect the Law 2.Criminals will not be spared!"
Hussain had yesterday tweeted: "Parliament fulfilled its duty by passing strong AntiRape Law acc to people's expectations. Now I HOPE Hon Court fulfils Nation's HOPE."
Union Minister of State RPN Singh:  
"Am v glad all 4 men in the brutal gangrape and murder of Nirbhaya have been found guilty. My thoughts with her family today"
Media personality Harsha Bhogle
if the delhi gang rape beasts,and those from the shakti mills incident,get severe sentences,would it lead to fear,and so,act as a deterrent?
Women's rights activist Madhu Kishwar
Endless emotive harangues on women's unsafety, asking 4 more strict laws making mockery of the danger of increasing lawlessness in India
Social activist Kiran Bedi
All Convicted! This was never in doubt.What is vital is severity of punishment. Justice demands this to be treated a rarest of rare!
Leader of Opposition in Lok Sabha Sushma Swaraj
"I welcome the judgement in Delhi gang rape case. This will serve as a deterrent for such offences."Bollywood actor Raveena Tandon: "Superb!! For once its been victory of the people!! Delhi Rape Victim..Nirbhayas Rapists To HANG! Bunch of .""Nirbhaya,s soul will finally rest in peace!! I am personally disappointed at the juveniles sentence wish it was more,really wonder what will happen to
him after 3 years,will he come out "reformed" or a bigger criminal??"
Film maker Karan Johar: "Death Sentence of the Rapists!!!!! Thank god...there is a god!!! and finally...there is JUSTICE!!!"