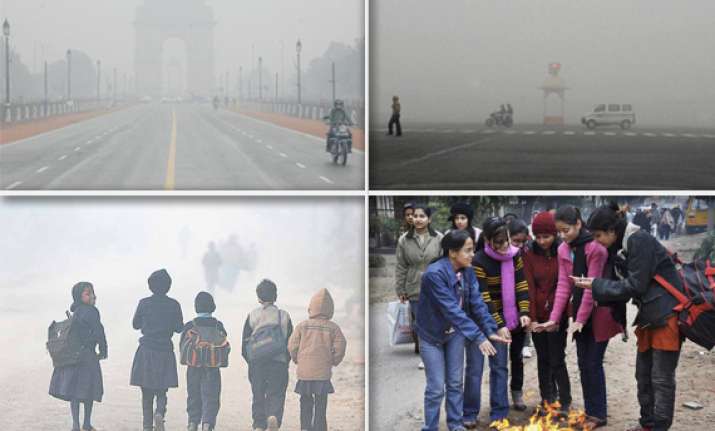 New Delhi, Dec 24: Delhiites woke up to a shivery morning today as the mercury plummeted to as low as 3.3 degrees Celsius prompting them to pull out more woollens from the shelves to bear with the coldest day this season. 

This is the first time that the minimum temperature went below four degrees Celsius ever since the onset of winter this year in the capital.

Today's minimum of 3.3 degrees Celsius was five degrees below normal and down from yesterday's six degree Celsius.  Yesterday, recorded the lowest maximum temperature for the season at 19.9 degree Celsius.

Today's maximum was recorded at 20 degrees Celsius, which is two degrees below normal at this time of the season, the MeT office said.

The winter chill is here to stay for at least the next few days with the Weathermen predicting a further fall in minimum temperature on Christmas tomorrow. The maximum could hover around 19 degrees Celsius on Sunday. 

"It was too chilly in the morning. I would say a freezing morning. Getting out for office at 7 AM was like a crime," said Ruchi Talwar, a media professional. 

The coldest day of the season so far was December 16 when the minimum dropped to 4.7 degrees Celsius and maximum to 21.7 degrees.

In December last year, the minimum had come down to 5.2 degrees Celsius on the 22nd of the month.

In the past decade, the lowest minimum for the month was recorded on December 12, 2005 when the mercury recorded 3.3 degrees Celsius while the highest maximum was 28.4 degrees on December 15, 2003. 

The record for the lowest minimum for the month of December is 1.1 degree Celsius recorded on the 26th of the month in 1945 and the highest maximum was 29.3 degrees on third of the month in 1987.