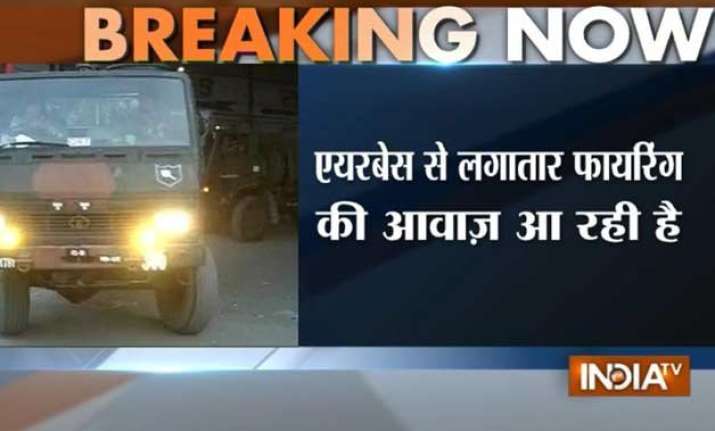 Pathankot: Heavy firing resumed at the Indian Air Force (IAF) base in Pathankot this morning as security forces continued their combing operation to neutralize two more terrorists, believed to be hidden here.
Two loud explosions were heard at around 8 am, prompting exchange of fire from both the sides, a police official said, adding that NSG and Army commandos are conducting a thorough mopping of the entire area where the terrorists, suspected to be from Pakistan, had been cornered.
Today is the third day of the military operation which saw 7 military casualties including a Lieutenant Colonel of the NSG.
Security forces yesterday nailed two more terrorists who had attacked the IAF base here along with four others. An official said that 4 terrorists were killed on Saturday and hunt is on for two others.
The official said that IAF helicopters flew through the night over the air base to assist ground forces in the counter offensive against the terrorists.
The terrorists, suspected to be from Pakistan, failed to destroy IAF assets due to timely action by security forces, an IAF official said. He said that the security forces had sounded an alert in the area, including the IAF base, ahead of Saturday's pre-dawn attack.
"Combing operation continued. This operation is at the completion stage. The operation will continue till the whole air base has been cleared of any intruders," Air Commodore JS Dhamoon, the Air Officer Commanding (AOC) of the Pathankot Air Force Station told the media.
Army and para-military forces have surrounded the entire air force base, which is spread in a huge area.
Yesterday, Prime Minister Narendra Modi reviewed the situation arising out of the terror attack at Pathankot. Soon after his return from Karnataka last night, Modi chaired a meeting of top officials including National Security Adviser Ajit Doval and Foreign Secretary S Jaishankar.
According to sources, during the meeting in New Delhi, Doval gave a detailed account of the attack which has been going on since the wee hours of Saturday. The meeting lasted for over two hours. Sources said, the implications of the attack on relations with Pakistan are also believed to have been deliberated upon in the meeting.
Earlier in the day, Defence Minister Manohar Parrikar also briefed the Prime Minister on the latest situation at the Pathankot air base.
External Affairs Minister Sushma Swaraj too held a meeting in New Delhi with some former Foreign Secretaries and Indian High Commissioners to Islamabad for diplomatic consultations on Pakistan Strategy.
The security forces have already killed five terrorists. One more terrorists is believed to be still holed-up inside the base, and an operation is underway to flush him out.