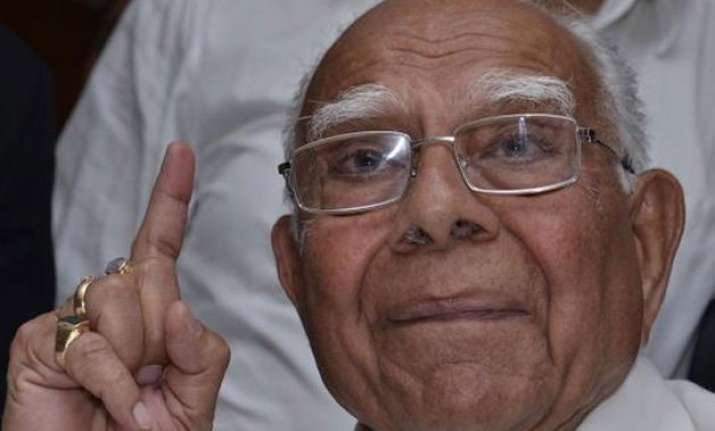 New Delhi: Senior advocate Ram Jethmalani on Saturday claimed that he had met Dawood Ibrahim in London where the underworld don conveyed his wish to return to India.
Speaking to a news agency, Jethmalani said that Dawood had offered to surrender to Indian authorities, but the then Maharashtra chief minister Sharad Pawar had rejected the offer.
Jethamalani said that Dawood was ready to return to India and be placed under house arrest during the trial, as he feared he would be bumped off in jail.
He added that Dawood told him he was not involved in 1993 Mumbai serial blasts.
"Dawood said that I have done bomb blasts etc. Not true, I will come back but no third degree," said Rajya Sabha MP.
The noted lawyer's statement came after Dawood's lieutenant Chhota Shakeel said in an interview to a newspaper that the underworld don had wished to return to India after the Mumbai blasts and had even spoken to Jethmalani in London, but the Indian government refused.
"When we wanted to come back after 1993, you people, your government didn't allow. Bhai had himself spoken that time to Ram Jethmalani, that too in London... baat ho gayi thi... But your ministry... that Advani played the game," Shakeel said.
Shakeel also mocked Indian authorities for repeated declarations of their desire to bring Dawood and his aides back to India to prosecute them.
"Every time a new government comes, they make the first statement about us. Usko leke aayenge... ghus ke laayenge... Kya halwa hai? Bakri ka bachcha samajh ke rakha hai kya? Lana hai toh usko (Rajan) lao na," he said, while implying to D company rival Chhota Rajan.
The Narendra Modi-led government has reiterated said that Dawood is in Pakistan and that India is determined to bring him back.
However, Pakistan has denied the underworld don's presence on its soil.