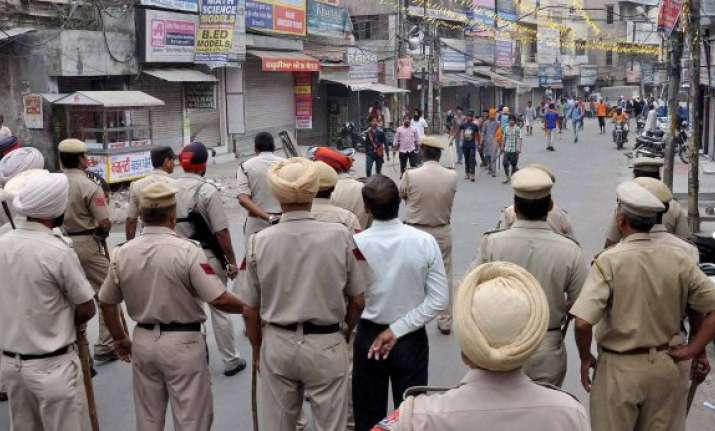 New Delhi: Taking a serious note of the incident of burning alive of two Dalit children in Faridabad, Union Minister of Social Justice Thawar Chand Gehlot today assured all required assistance to the victim's parents who also sustained injuries in the attack.
Gehlot reacted cautiously to the possibility of caste angle being behind the attack, saying the same can be ascertained only after the probe in this regard.
 
"Two children have died in the incident. Their father is out of danger, but mother has received 75 per cent burn injuries, is what we have been informed.
"The Haryana government has extended them all the help including medical treatment and financial assistance. We are in constant touch with the Haryana Chief Minister (Manohar Lal Khattar) in this regard. If more help is required, we will look into it," Gehlot told PTI here.
On the possibility of caste angle, the minister said from the initial reports regarding the incident, it appeared there was "old enmity" between the two families.
"But truth will be out only after the probe is over. So, it will not be proper for me to comment on it right now," Gehlot said.
He added Minister of State for Social Justice Krishna Pal Singh, also the local MP, is keeping a close tab on the situation.
Gehlot also appreciated Khattar taking "immediate" action in this regard by declaring a high-level probe in the matter and announcing adequate compensation of Rs 10 lakh to the surviving victims.
Two-and-half-year old Vaibhav and his 11-month-old sister Divya died after attackers allegedly poured petrol from the window and set the house ablaze while the family was sleeping inside their home at around 2:30 AM today in Sunped village in Haryana, bordering Delhi.
Their mother Rekha (28) suffered serious burn injury and has been referred to Delhi for treatment while their father Jitender (31) too suffered injuries while trying to save his family.
Meanwhile, Union Home Ministry has sought a report from state administration in this regard.