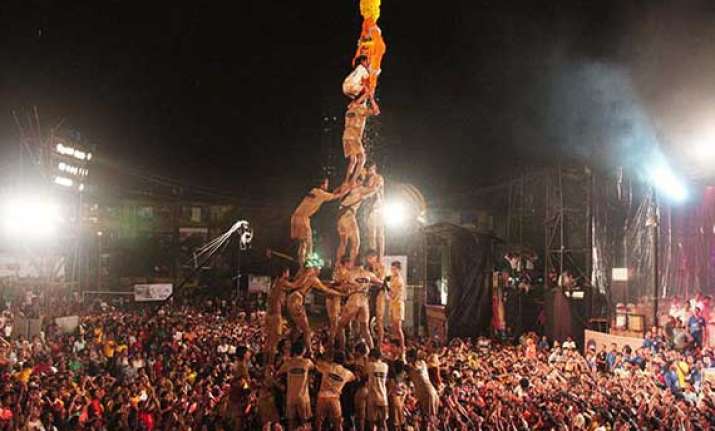 New Delhi: One of India's most popular festivals- Janmashtami- is celebrated throughout India  with  zest and fervour, to commemorate the birth of Lord Krishna- the eighth incarnation  of Lord Vishnu.
The legend of this festival basically revolves around the birth of Lord Krishna with the purpose of getting the world rid of evils.
Lord Krishna took birth at midnight on the ashtami or the 8th day of the Krishna paksha or dark lunar fortnight in the Hindu month of Shravan (August-September). 
In  India, thousands of people come out on the streets on Janmashtami to enact  the "Dahi Handi " (stealing of  curd) episode from Krishna's childhood. Large earthen pots with butter are kept at great heights in the middle of the roads, and pyramids of volunteers try to break the pots to win prizes. 
While the Rasa lila re-creates the flirtatious aspects of Krishna's youthful days, the Dahi Handi celebrates God's playful and mischievous side. 
watch in pics the Dahi handi celebrations in various parts of India: