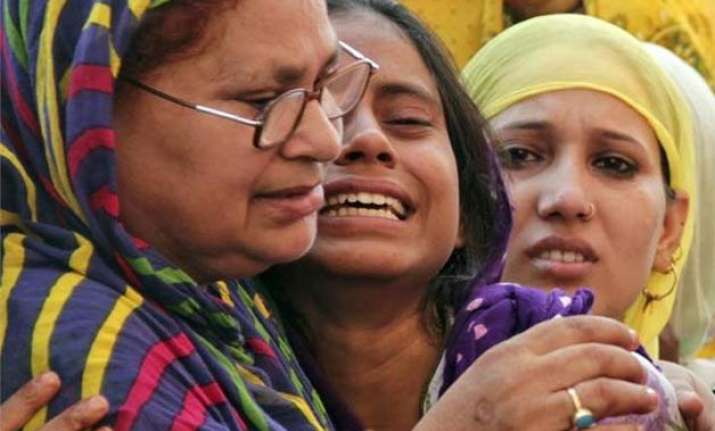 Dadri (UP): Gautam Buddh Nagar District Magistrate N P Singh today termed the Dadri lynching incident as an "alarm bell", even as he claimed that there is a "trend" of individual crimes being given communal colour in western Uttar Pradesh region.
"Dadri incident is just an alarm bell to wake up from, where we are heading to," Singh said addressing a gathering of locals including heads of different religions assembled at Dadri Tehsil.
"There is a trend in western UP wherein individual crimes are being given communal colour. In villages, people throw away animal carcasses, even village authorities don't dispose them off properly and such things are meant to incite people," he claimed.
Noting that communal fights resulted from attempts to exert religious superiority, he said that the Constitution of India was above any religious book as it was preventing the country from becoming Pakistan, Syria or Egypt.
"Fights due to religion begin between two communities when one tries to establish its religious superiority over the other. Geeta and Quaran have no fundamental difference and those who don't know it are easily made to fight by miscreants," he said.
"The holy books of any religion should not be superior to the Constitution of India. Where will our Constitution and democracy go if we hold them superior to it."
"Indian Constitution is ensuring that we don't become a country like Pakistan, Syria or Egypt," he said.
Appealing and guiding the locals for religious harmony and peace, he called upon them to take the "side of truth" in times of crisis like Bishada.
Criticising a section of intelligentsia, he said, "Being neutral does not mean one has to be a "napunsak" (impotent). A section of intelligentsia at times behaves like that."
 
He said that even if anyone's sentiment is genuinely hurt they have no right to decide for themselves next course of their action.
"Will you shoot any one just like that for hurting your sentiment?"
Pointing to the ideological poisoning of the youth, Singh emphasised on good education and values for them to save them from negative influences of different ideologies.
"It is a matter of deep concern that the youth is getting ideologically poisoned. We have to remember they are not growing in isolation. We will have to make sure that they are inculcated with good education and values."
"In order to prevent them from getting negatively influenced from ideologies, they need brain mapping at an early age," he said.
Pointing to growing influence of social sites on youth, he said "they are getting more influenced by social sites. A section of them is becoming more aggressive whereas another section of them is becoming more reclusive."
The district magistrate is planning a 3-month package course for local youth in the age group 18-25 years for skill development, spiritual guidance, and professional counselling to save them from "negative" ideological influence.
Further, he has planned to address local school children in the area at school assemblies to guide them about moral values and importance of harmony.
"In case of Bishara, 90 per cent of the police force is trying to ensure that brothers (two communities) do not fight again due to ignorance," he said.
The Senior Superintendent of Police (SSP) of Gautam Buddh Nagar Kiran S too addressed the gathering advising them to resist the moves of miscreants in their society and avoid acting emotionally under crisis situations.
"Only 5 per cent people in a village create mischief and if the rest 95 per cent oppose them then no such incident will ever take place," he said.