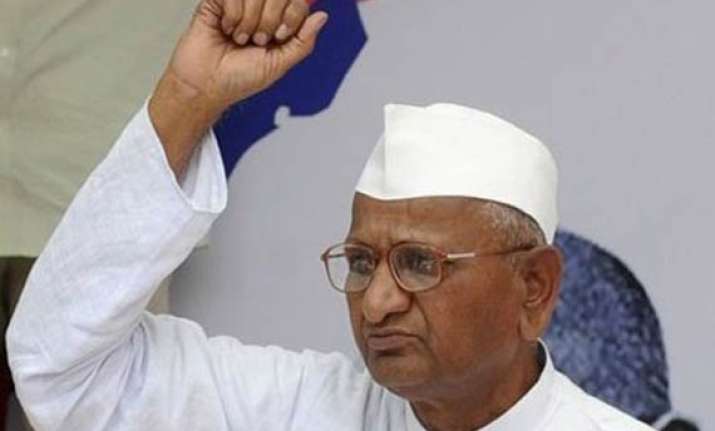 New Delhi, April 7: Anna Hazare's indefinite fast against corruption has set abuzz the cyberspace with messages of support for the social activist from netizens across all sections pouring with the common refrain being—'NOW is the time to get together'.

A suggestion was also made by a blogger today that all people going to stadiums across the country during IPL matches—which has a huge TV audience—should wear "Gandhi Caps" and "Placards with anti corruption messages. One tweet even dubbed Hazare "Mahatma Gandhi 2.0."

One blogger Fida Siddiqui went on to say that ANNA ji should be given more support than cricket team.

"ANNA has become Gandhiji of this era we all indians salute you & promise you that your struggle will bring out positive results for india," said Fida echoing the sentiments of the youth.

'Anna Hazare', 'corruption', and 'Jantar Mantar' were the top trending words and phrases on Twitter India, thanks to a flood of tweets every minute saluting 71-year-old Hazare as the "face of India's fight against corruption."

Facebook and Twitter have seen around 45-50 updates per minute on Hazare. Users are updating their views and are asking others to join the cause.

Hazare's campaign is a noble cause, said a blogger Navneet Kumar Bakshi.

"Anna Hazare has taken the most difficult first step: He has started the revolution. What we must now do is consolidate that movement," said another blog post.

There were some tweets too dripping with sarcasm.

"Anna Hazare wouldn't be fasting if our politicians didn't 'eat' so much," said Indian Premier League(IPL) match host Gaurav Kapur.

Actor Farhan Akhtar wrote, "I support Anna Hazare. Our country has suffered from corruption for too long… NOW is the time we get together and do something about it."

One blogger wished Hazare's fast unto death turns out to be crucial first step towards  eliminating corruption. "More power to Anna," he said.

With Hazare's crusade getting allround support, one tweet had a fond wish, "Thousand Annas must bloom".

One blogger counselled cation saying results in the battle against graft cannot be achieved overnight.

"It is not as if tomorrow the lokpal bill is passed and the day after India will be squeeky clean. This is just the beginning. We need to continue to sweep the dirt out of our lives. may be after 5 years we will have a better society, the blog said.

There were some dissenting notes too in the cyberspace. "Everyone is against corruption, but we can't fight corruption by outsourcing the system of making laws to a bunch of non-governmental organisations...I hope Shri Manmohan Singh will be able to come up with a convincing solution for the issue of corruption," one blogger said.