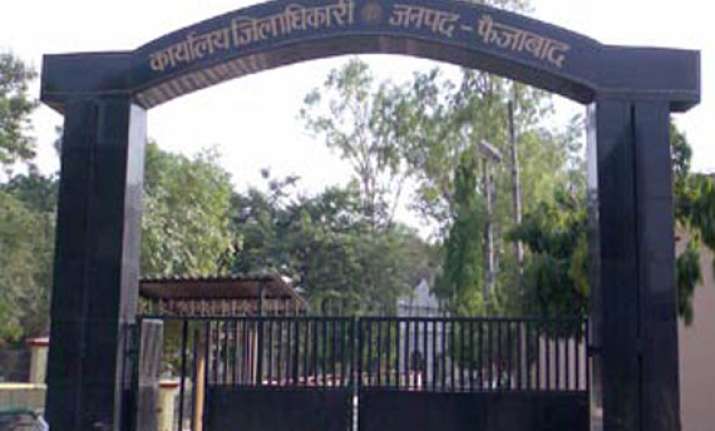 Faizabad, UP, Oct 26: Indefinite curfew has been  clamped in the Kotwali and Cantonment police station areas of Faizabad district following communcal clashes on Wednesday night in which two persons were killed and several injured.
Over two dozen shops were torched by rioters in Chowk, Bhadarsa and bikapur.
The clash followed a dispute over a procession for immersion of idols of Goddess Durga on Dussehra on Wednesday.
Chief Minister Akhilesh Yadav has said rioters would be sternly dealt with. On Thursday, he announced compensation for those whose commercial establishments and shops were burnt down.  
The situation continues to be tense in Faizabad. A police jeep was set on fire by miscreants on Thursday and local MLA Tej Narayan Pandey was manhandled.  
Ten companies of the PAC , one company of the Rapid Action Force and 300 sub-inspectors and constables have been deployed in and around the town.  
Additional forces from all the districts coming under Faizabad and Lucknow zones and additional fire tenders have been sent to the town.  
Director-General of Police Ambrish Chandra Sharma and other police officials are camping in Faizabad.
Clashes first broke out in the neighbouring Barabanki district following a dispute over the idols procession route in Bhatwa Mau village.  
However, the situation was brought under control by the security forces and Durga idols were immersed late on Wednesday night, IG  Badri Prasad Singh said.  
From Barabanki, the violence spread to Alwana village under the Rudauli police station area in Faizabad district.  
Singh said clashes broke out after a  place of worship on the procession route was smeared with gulal (coloured powder).  
One group blocked National Highway 24 that connects Faizabad with Lucknow and the blockade was lifted late on Wednesday night after the district administration assured that Durga idols would be immersed.  
Clashes erupted in Chowk area after it was alleged that a youth had passed an indecent remark at a girl. Several persons were injured when two groups resorted to stone-throwing and about a dozen shops were set afire.  
Singh said curfew was imposed in the Kotwali police station area after the incident. On Thursday, it was extended to the Cantonment police station area.  
Another clash occurred in Bhadarsa under the Pur Kalandar police station area of the town after coloured material was allegedly thrown at a place of worship.  
As rival groups indulged in stone-pelting, resulting in injuries to several persons, about 13 shops were torched.  
Singh said one person was killed in the violence. Another shop was torched in Bikapur, where a tractor and a vehicle were set ablaze.  
On Thursday, one person was killed in Muqimpur under the Inayat Nagar police station area.  
The police, however, maintained that it was on account of personal enmity and was not related to the clashes.