Follow us on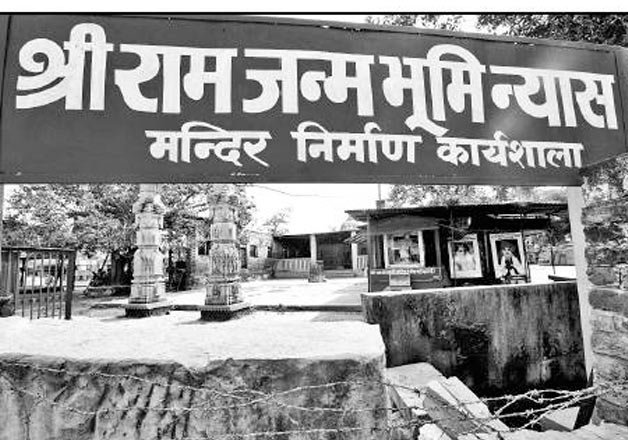 Ayodhya: The Ram Janmabhoomi Nyas Trust will hold a crucial meeting today in which important decisions regarding the construction of Ram Temple will be taken.
The meeting will be held at the Mani Ram Das Chawni temple, adjacent to the Babri Masjid premises.
Senior VHP leaders including Ashok Singhal, Pravin Togadia, Trust president Mahant Nritya Gopal Das will be present in the meet.
Former BJP MP and senior member of the Trust, Ram Vilas Vedanti, said that 'important' decisions will be taken at today's meet on the construction of temple at the disputed site.
Vedanti said that the BJP-led Central government has shown no positive signals regarding the temple's construction since it stormed to the power in New Delhi.
Several BJP leaders have said that the party is committed to the construction of Ram Mandir but top bigwigs including Home Minister Rajnath Singh had in past expressed their inability for the same alleging that the government cannot bring a bill in the Parliament as it doesn't have a majority in the Rajya Sabha.
Recently, BJP president Amit Shah had said that the government doesn't have enough mandate to address core issues including  construction of  Ram Temple in Ayodhya. He had said, "We need 370 seats according to the Constitution to address them (issues)."
Meanwhile, the local administration has issued alert and deployed security forces at vital points in the twin towns of Ayodhya and Faizabad.
Earlier, a two-day meeting of VHP on the same issue was held in Haridwar.
Last week at a programme in Lucknow, senior VHP leader Ashok Singhal had appealed to the Muslim community to hand over the disputed sites of Ayodhya, Kashi and Mathura to Hindus.

Last week, Singhal had appealed to Muslims to hand over the disputed sites in Ayodhya, Kashi and Mathura to Hindus. Earlier, VHP's margdarshak mandal meet held last month in Haridwar too had asked the government to "clear hurdles" in the path of the temple construction.
The Parishad also rejected any formula involving construction of a temple as well as a mosque at the disputed site.
"No place of worship for Muslims would be allowed to come up in the huge premises having hundreds of Hindu pilgrimage centres," it said about various efforts being made to reach an out-of-court settlement on the dispute. The Ayodhya title suit to decide the ownership of disputed land is pending before the Supreme Court.
The Ram Janmabhoomi Nyas was founded as an independent trust by VHP in 1993 to take charge of the disputed site and oversee construction of the proposed temple.