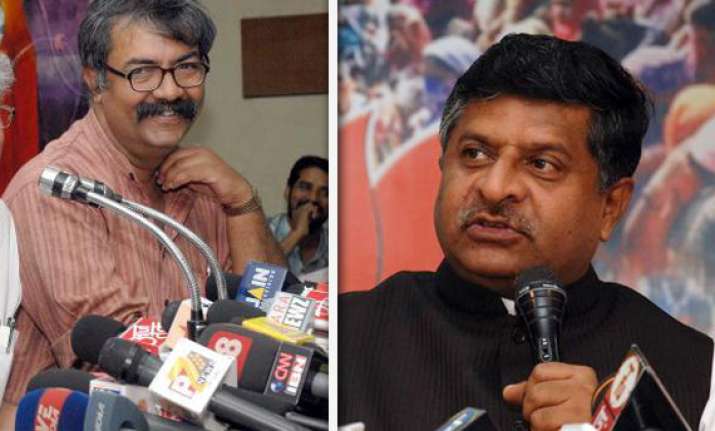 New Delhi, Feb 4: Opposition today said the trial court verdict granting relief to Home Minister P Chidambaram would not change the "corrupt" image of the government, and the recent court orders on the 2G scam shall have "far reaching" implications on its collective functioning.  

"This verdict will not change the corrupt image of the government or the intensity of our campaign...The issue of political accountability of Chidambaram remains alive...We will continue to raise the matter of his accountability before the nation," BJP spokesperson Ravi Shankar Prasad said here.

Maintaining that "there is overwhelming evidence of corruption" in the grant of 2G licences, he said there was "enough evidence against Chidambaram in public domain...The BJP shall continue to pursue the matter before the people of the nation."

Another BJP leader Jaswant Singh said, "I don't think it is a disappointment, because it is not the end of the story".

"We cannot lose sight of the fact that the Supreme Court has cancelled 122 licences because it was a scam and there was corruption. The licences were allotted arbitrarily and after manipulation of policy," Prasad also said.

Maintaining that a "protracted legal battle" would now follow on Chidambaram's alleged involvement, CPI(M) leader Nilotpal Basu said the apex court order cancelling 122 2G licenses had quoted "government's own policy paper to say the then Finance Minister was jointly responsible for the pricing of spectrum".

There was "overwhelming evidence" that Chidambaram and the then Telecom Minister A Raja had consulted each other on the issue, the CPI(M) leader claimed.

Basu also said "there is no evidence to show that the former disagreed or tried to stop" the move to go for a first -come, first-serve policy on granting spectrum licences.

CPI National Secretary D Raja said his party would examine the court order dismissing Subramanian Swamy's plea to make Home Minister P Chidambaram a co-accused in the 2G scam case.

The Supreme Court order cancelling 122 2G licenses and today's order by the lower court would have "far-reaching implications on the collective functioning of the Cabinet and individual responsibility of concerned Ministers", he said.

Noting that these orders could become "precedents" for the future, he said "ethical and moral questions" could be raised with respect to the role of Chidambaram from documents like the Finance Ministry's March 25 note which were in the public domain.

The note had suggested that Chidambaram could have prevented the scam by insisting on spectrum auction.