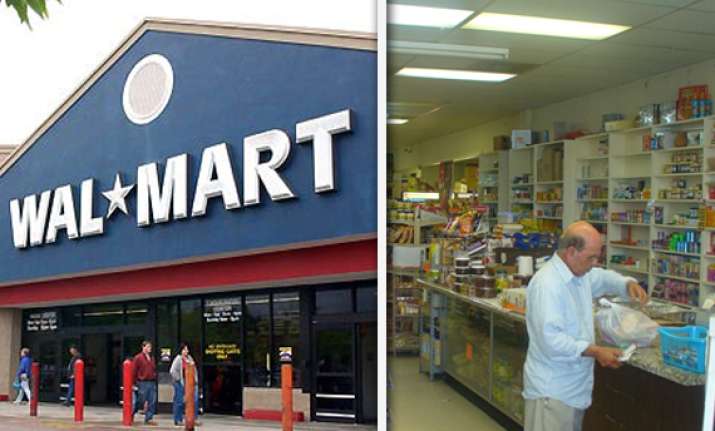 New Delhi, Nov 25: Amid mounting attack by Opposition and ally Trinamool, Congress top brass including the Prime Minister and party chief Sonia Gandhi today took stock of the situation in the wake of government's decision on FDI in multi-brand retail and gave no indication of any rollback.

Congress, which was tight-lipped on the issue before the Cabinet nod, on Friday hailed the move as one which will promote employment and benefit consumers.

"All those who are in the government are supporting (the move). There may be individual views," Parliamentary Affairs Minister Pawan Kumar Bansal told reporters on a day when UPA ally Trinamool Congress virtually led the charge in opposing the move in Parliament.

In an apparent reference to Trinamool Congress supremo and West Bengal Chief Minister Mamata Banerjee, Bansal said that Commerce and Industry Minister Anand Sharma has held consultations with all concerned.

Besides Trinamool Congress, the move is being strongly resisted by all the opposition barring the Shiromani Akali Dal, which is a key constituent of the BJP-led NDA and ruling party in Punjab known for its agrarian economy.

Party spokesperson Abhishek Singhvi strongly reacted to BJP leader Uma Bharati's threat to set afire WalMart store wherever it opens.

"You can expect nothing more and nothing less from them who preach tolerance and practice violence. One must not forget the dancing image of the same person, when the Babri Masjid was demolished," Mr. Singhvi said.

He said that FDI in retail is actually going to "promote employment" and offer a much higher degree of choice better quality and compensation to consumers.

Echoing similar views, party general secretary Digvijay Singh remarked on Twitter "fully support 51% FDI in Retail. Good for Consumer as it would eliminate middle men. It won't affect neighbourhood store and Rural Market."

Commerce and Industry Minister, Anand Sharma on Friday asserted that this bold move would lead to creation of 10 million jobs and billions of dollars in investments during the next three years.

Sharma said that necessary guidelines and press note would be issued by next week giving details of the approved policy.

"Our initial estimates are that it will create over 4 million jobs in the small and medium industries and another 5-6 million jobs in the logistics sector in the coming three years," he told journalists at a press briefing.

The guidelines regarding the decision to allow 51 per cent FDI in the multi-brand retail will be issued by next week. He said many state governments had favoured opening of the sector and government had responded to those demands.

"The fear that small and marginal traders would stand displaced is wrong. In Indonesia, even after nine years of opening FDI in multi-brand retail, 90 per cent of the business remains with the small trader," he added.

Asserting that it was the prerogative of the government to decide the policy and timing of its decision, Sharma said this was a major step towards providing liberation to the farmers from middlemen and ensuring remunerative price for his produce.

"This step will help in not only attracting massive investment but also create jobs in the agro and food processing industry and bring FDI to build the much needed infrastructure in the rural India," he added.

Stating that the thrust of the policy was for benefit of the farmers and to ensure massive inflow of funds in the rural infrastructure, Sharma said this is why a mandatory provision had been made that 50 per cent of the investment would be in rural back end infrastructure.

"India has put out its own policy on FDI in multi-brand retail with 51 per cent limit. China, Indonesia, Russia, Thailand, South Africa, Argentina and Chile have allowed 100 per cent FDI in multi-brand retail. We are not following any nation but guided by national interest," he remarked.

The Commerce Minister said all proposals relating to multi-brand retail would be cleared by by Foreign Investment Promotion Board (FIPB) and the retailers would have to take license from the respective State Governments for opening of the mega stores. The government's decision would pave way for global retail giants like Wal-Mart, Tesco and Carrefour to set up their mega store retail chains in the country.

Sharma said that the government will have the first right to procure agricultural products. The move will not impact small and marginal retailers in the country.

The Minister said the Government had also increased FDI cap in the single brand retail to 100 per cent from the current 51 per cent.

"Single brand product retailing would cover only products which are branded during manufacturing. The foreign investor should be the owner of the brand. In respect of proposals involving FDI beyond 51 per cent, 30 per cent sourcing would mandatory from SMEs/village and cottage industries artisans and craftsman," he added. This would benefit Indian SMEs especially in sectors like textiles, gems and jewellery, leather and jute.