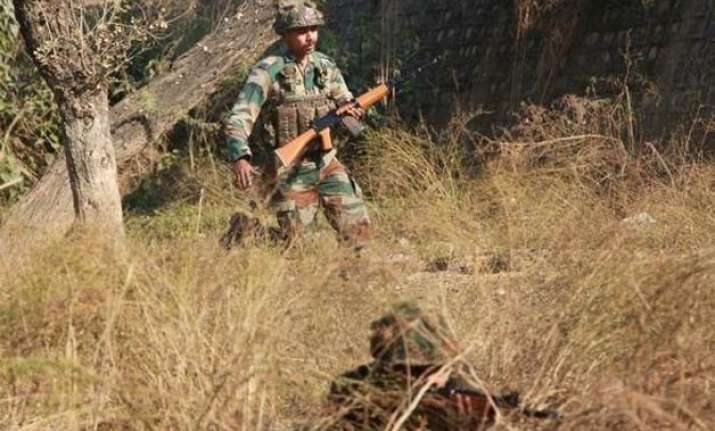 Pathankot: Security forces continued sanitization and combing operations inside the IAF base in Pathankot on Tuesday -- the fourth consecutive day after the attack on the frontline Air Force Station (AFS) by suspected Pakistani terrorists.
The counter offensive against the terrorists at Punjab's Pathankot air base was going on for the past 77 hours.
Search and combing operation by security forces continued on Monday night also. The operation was stepped up on Tuesday to scan every inch of the air base, an Air Force official at the base said.
NSG, Army and Air Force commandos were conducting a thorough mopping of the entire area inside the base.
Firing could be heard from inside during Monday night and early Tuesday. Officials said the firing was linked to the mopping operation.
IAF helicopters flew over the base to assist ground forces in the counter offensive against the terrorists.
"The operations are still going on. We have been able to eliminate the fifth terrorist. Combing and search operation continues," Inspector General of the NSG Major General Dushyant Singh told the media on Monday evening.
Read Also: Why talking to Nawaz Sharif is dangerous if Pak Army is not fully on board
The terrorists infiltrated the base on Saturday, leading to fierce gun battle with security forces.
Four terrorists were killed on Saturday after 15 hours of fighting. The fifth terrorist, according to the security forces, was killed on Monday.
Seven security personnel, including an officer of the National Security Guards (NSG), an IAF Garud commando and five Defence Services Corps (DSC) personnel, were killed by the terrorists.
The United Jehad Council (UJC), an umbrella grouping of Kashmiri militant groups based in Pakistan, on Monday claimed responsibility for the attack.
Army and para-military forces continued to surround the entire air force base which is spread in a huge area.
Defence Minister, Service Chiefs to visit Pathankot
Defence Minister Manohar Parrikar along with Air Force Chief Air Chief Marshal Arup Raha and Army Chief General Dalbir Singh Suhag will today visit the Pathankot Air Base, which was attacked by Pakistani terrorists on Saturday.     
The three are scheduled to visit the strategic base, situated about 35 km from the border with Pakistan, in the afternoon to get a first hand assessment of the ground situation after six terrorists were killed by security forces.        
The visit comes at a time when the government has ordered a security audit of all vital defence installations in the country to find out the possible security loopholes. 
With Agency Inputs