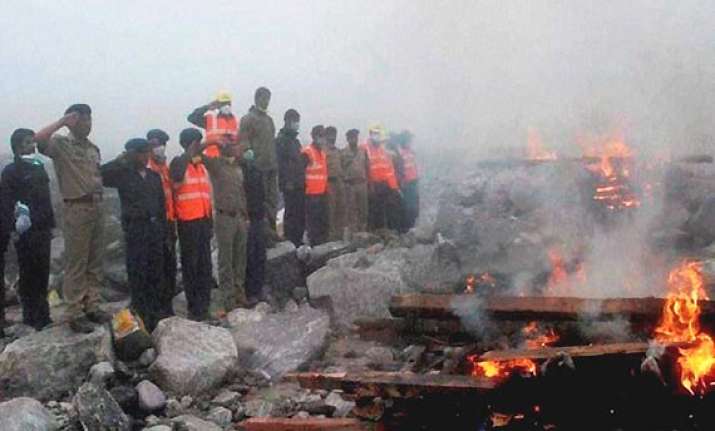 Dehradun: Disposal of bodies lying in the upper reaches of Kedar Valley and restoration of damaged road network in the state gained momentum with the weather remaining largely clear in Uttarakhand throughout the day.  
Sixty-four more bodies found over the ridges in Kedar Valley were cremated after necessary rituals, Inspector General of Police R S Meena said.
These bodies were lying in the higher reaches, which were earlier inaccessible due to bad weather, he said.  "As the weather cleared up in the region, we resumed our efforts and consigned to flames 64 bodies recovered from Gomkura ridge between Rambada and Kedarnath shrine," he said.  
With this, the total number of bodies cremated so far in Kedar Valley has risen to 373 since the start of operations.  The disposal work was suspended for nearly a month, primarily because of bad weather and no more recovery of bodies on the surface, the IG said.
Meanwhile, the weather in the state remained largely clear throughout the day except reports of light to moderate rains at isolated places, including capital Dehradun.  
Uttarkashi received the maximum 35 mm of rains during past 24 hours, followed by Munsyari, which recorded 28 mm of showers, MeT office director Anand Sharma said.  
Predicting similar weather for the next 24 hours, Sharma said light to moderate rains are likely to occur at isolated places including Dehradun, Uttarkashi, Pauri and Nainital.  
Disaster Management and Mitigation officials said the work to repair damaged roads, including the Rishikesh-Badrinath, Rishikesh-Kedarnath and Rishikesh-Gangotri highways, gained pace today with the weather clearing up.  
These routes are blocked at many places due to debris brought down by landslips.