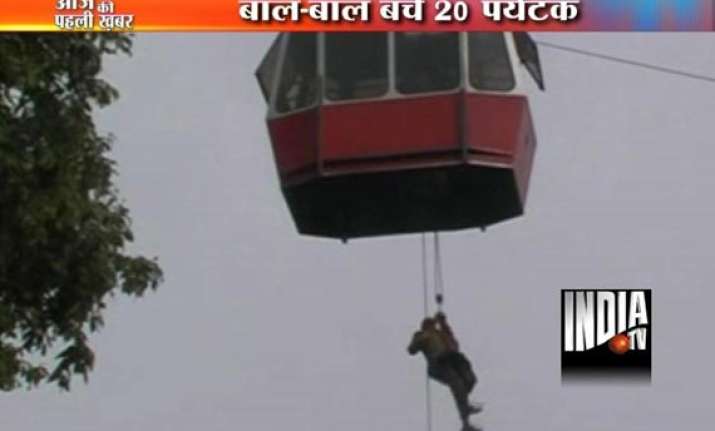 Nainital, Jun 10: Twenty-one tourists had the scariest moments of their lives on Sunday, when two ropeway trolleys got stuck midway because of a technical fault and they had to be rescued from 250 feet above with the help of ropes.
The tourists were being transported to a Snow View, 2270 metres above sea level, when the two trollies, one moving ahead and the other returning, got stuck.
Most of the tourists were from Noida, Moradabad, Lakhimpur, Kanpur and Azamgarh of Uttar Pradesh, and had come to Nainital to spend the weekend.
Aatiq Khan, a student, and her group leader Tasneem said it was the scariest moment of their lives.
All the tourists were rescued one by one with the help of ropes. The rescue operation went on for nearly two hours. Being a Sunday, senior officials  of the Kumaon Mandal Vikas Nigam, that operates the ropeway, were absent and had taken their weekly off.
This is not the first incident involving the famous Nainital ropeway. Opened in 1980 by the then chief minister N D Tiwari, the first incident took place in 1985, when the trolley got stuck midway. Several months ago, schoolchildren from Mumbai got stuck on this ropeway and had to be rescued.
The ropeway built on Swiss technology has a trolley to accomodate 11 persons.