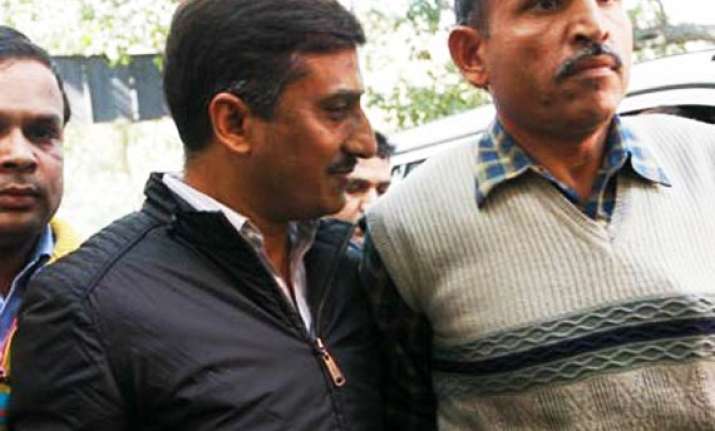 New Delhi, Dec 7: The Supreme Court today put on hold the interim order of the Delhi High Court staying the bail granted to the 2G spectrum scam accused R K Chandolia. 

A bench headed by Justice Altamas Kabir said that the interim order of Delhi High Court passed on December 2, 2011 shall remain stayed till a bench headed by Justice G S Singhvi which had granted bail to five corporate honchos in the case decides Chandolia's plea.

"Since the application (of Chandolia) concerns the certain set of circumstances arising out of 2G spectrum scam which had been taken up by a bench headed by Justice G S Singhvi, we are of the view that the Special Leave Petition (filed by Chandolia) to be taken by the same bench," the bench also comprising justices S S Nijjar and J Chelameswar said. 

After the apex court put on hold the high court order, and restored Chandolia's bail given by the trial court, the high court deferred its further proceedings related to bail to Chandolia.

The apex court bench headed by Justice Kabir, earlier during the day, had agreed to examine Chandolia's plea against the high court's suo-motu decision to stay the grant of bail to him by the special court.

Chandolia had moved the apex court, challenging the high court order saying its decision staying the bail was "unwarranted and erroneous".

Chandolia, erstwhile private secretary of former Telecom Minister A Raja, was granted bail by the special CBI judge on December 1 and was released from Tihar Jail the same day. 

A day after Chandolia got out of Tihar after getting bail in the case, the high court bench of Justice V K Shali took suo motu cognisance of news reports on grant of bail to him and suspended it saying the stay would be operative if he was not already out of the jail.

The high court had said his release would have an "impact" on the bail plea of former Telecom Secretary Siddharth Behura. It had earlier reserved its verdict on Behura's bail plea.

Chandolia's counsel Sanjiv Sen had mentioned about the high court's order staying the grant of bail to his client before the apex court bench on December 5. 

The apex court bench had told Sen that day it was not sure if it was empowered to hear the appeal as per the court's business allocation rules and had told him to mention it today.

Sen had said the high court's decision, staying Chandolia's bail was erroneous as the special CBI Judge had granted him bail on the basis of an apex court judgment on bail to five corporate executives and co-accused in the 2G case.