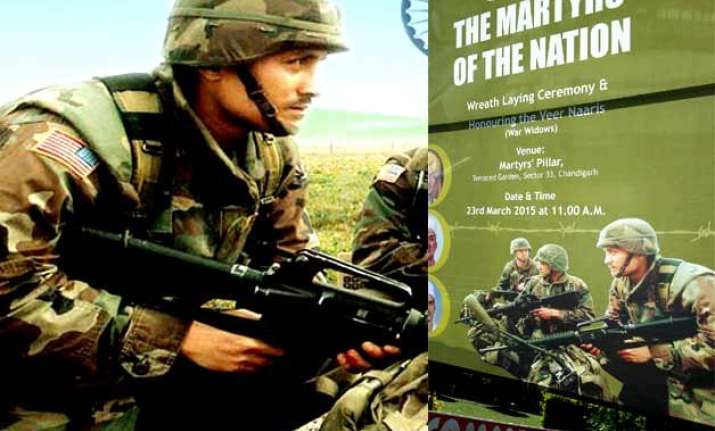 New Delhi: Chandigarh Municipal Corporation created a blunder on Sunday when it used a picture of US Army personnel to denote Indian Army soldiers on its hoardings honouring Martyrs Day across the city.
The picture was picked from internet and it seems that the organization has simply morphed US Army soldiers misrepresenting them as Indian Army  men. Soldiers in the original picture can be clearly seen wearing the US Flag on their uniforms.
The interesting part is that the organization does not know about the tampering done with the image.
Even other aspects of the photograph, like the pattern of helmets worn by the soldiers and the M-16 US Army standard issue rifle they are carrying, should have alarmed the MC officials dealing with the advertisements but evidently all this was ignored.
The hoardings were put up across Chandigarh to inform the general public about the commemoration event being held in the city on March 23 to mark the martyrdom day of Bhagat Singh, Rajguru and Sukhdev where the war widows would also be honoured.
Quoted by The Indian Express, Major Guneet Chaudhary (retd) said that the Chandigarh MC must take action against those responsible for dishonouring Indian Army martyrs. "This is not a small mistake. It goes to show how lightly the Chandigarh Administration takes the defence community and what little importance it gives it," he said.