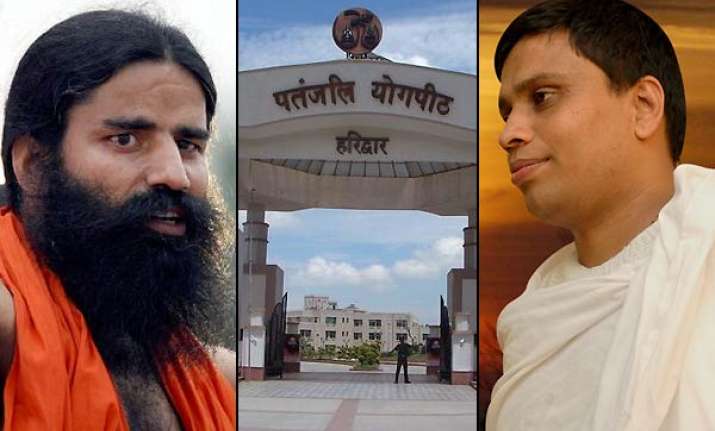 New Delhi, Aug 14: Even as the CBI was going through a toothcomb into Swami Ramdev's aide Acharya Balkrishna's educational testimonials, the Enforcement Directorate and Directorate of Revenue Intelligence have unleashed the full force of probes into the business of selling medicines and foreign remittances by companies owned by Swami Ramdev's trusts.

A Times of India report on Sunday said, the  stage is being set for action against Swami Ramdev, with a multi-agency probe revealing that companies owned by his trusts have clandestinely sent large amounts of money abroad, official sources said.

These entities are among 100-odd companies owned by Baba's trusts in Kanpur, some of which were launched as late as last month, the report said.

The Enforcement Directorate is investigating two large remittances allegedly made by Ramdev's trusts -$300,000 sent to London and $80,000 sent to Madagascar, an island off the southeastern coast of Africa, says the report.

RBI has been asked to look into the case and verify if an approval was sought before these fund transfers were made, sources claimed.

Ramdev's spokesperson S K Tijarawala made light of the ED's suspicion, but refused to comment on the two remittances under scanner.

Ramdev's interest in acquiring a large number of ayurvedic companies in Kanpur has raised alarm, though investigating officials are awaiting responses from registrars of companies from several other states as well.

The Kanpur Registrar of Companies has sent to the agency two CDs containing information on the 100-odd companies now owned by Ramdev's trusts, including Patanjali Yogpeeth, a senior official said.

Meanwhile, The Asian Age reported that the Directorate of Revenue Intelligence (DRI) is planning to send a team of its officials to Patanjali Yogpeeth next week to collect details of certain ayurvedic medicines, recently exported by the trust.

According to sources the DRI sleuths are expected to collect documents of those medicines which have been recently manufactured for the purpose of export by the Patanjali Yogpeeth trust.

The agency officials will also question some office-bearers, responsible for the export of certain ayurvedic medicines, of the trust, sources added.

"Total seven medicines, manufactured by the trust, are now under the scanner of the agency. Documents related to manufacturing of Amla Churan (manufactured by Patanjali trust) and Shilajeet Rasayan by Divya Pharmacy Yog are already being scrutinised by the DRI officials," sources said.

The agency officials are also planning to questioning workers engaged in the manufacturing of certain ayurvedic medicines by the trusts allegedly associated with Ramdev.

The DRI officials are in touch with district administration in this regard, sources added. If required the agency officials may question Ramdev and his close aide Balkrishna in this connection.

The DRI officials are scrutinising documents related to certain companies, allegedly associated with Ramdev and his aides.

The companies which are under the scanner of the DRI are — Devam Ayurveda Private Ltd, Gangotri Ayurveda Ltd, Kanhal Ayurveda Private Ltd, Chaitnya Ayurveda Ltd, Aarogya Herbs (India) Pvt, Shivalic Agroherb Private Ltd, Patanjali Agro India Pvt Ltd and Patanjali Paridhan Pvt Ltd.

Meanwhile, the Enforcement Directorate (ED) is also planning to issue notice to Ramdev seeking information about his alleged investments and foreign exchange transactions made through the trusts associated with him since 2008.