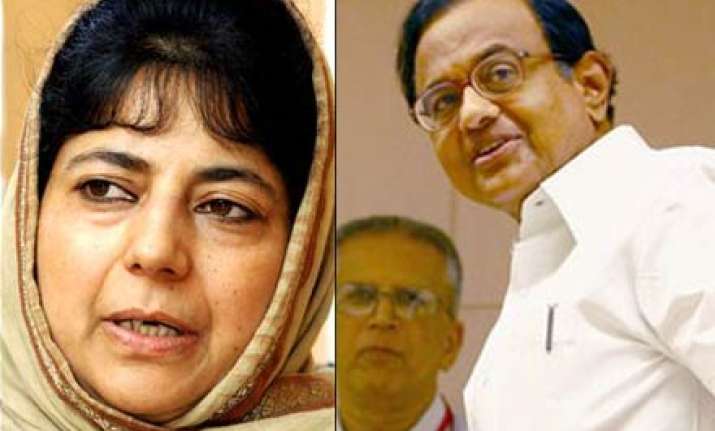 Srinagar, Feb 15 : People's Democratic Party chief Mehbooba Mufti said here on Monday that the Centre was afraid of bullying from  China even as Home Minister P Chidambaram threatened to take action against her party for showing parts of Jammu and Kashmir as part of China.
"I have high regards for the Home Minister, but I would request him that our leadership in Delhi should be more concerned about the incursions made by China every year. I somehow feel, people in Delhi are frightened of China. It would be better they do not get bullied by China, which I feel they are and that is why they do not want to face the reality", Mehbooba said.  
Mehbooba Mufti had given a powerpoint presentation at a press conference on Saturday about her party's vision and in one of the slides titled "Make J&K Free Economic Zone" showed the map of the state in three colours  - red for the part occupied by China, green for Pak Occupied Kashmir, and yellow for the remaining part of Jammu and Kashmir. 
"We have shown J&K boundaries as they existed before 1947. This is the reason we pointed out area under China in the map. When we talk of area under Pakistan's occupation, they (Centre) feel happy and when we talk of area under Chinese occupation, they are scared. That is why Beijing is occupying more and more land in Ladakh. Irony is that instead of being happy, the leaders in Delhi are worried about China getting annoyed", Mehbooba said.  
The PDP chief also hit out at the Centre for not doing enough against China over the  Kashmir visa issue. She said, Indira Gandhi and Atal Bihari Vajpayee would have been happy about PDP showing land occupied by China. 
In New delhi, the Congress asked PDP to withdraw its map, saying the party is using "modest and moderate" language. "This kind of pictorial misadventure has political and diplomatic implications," said party spokesperson Manish Tewari.