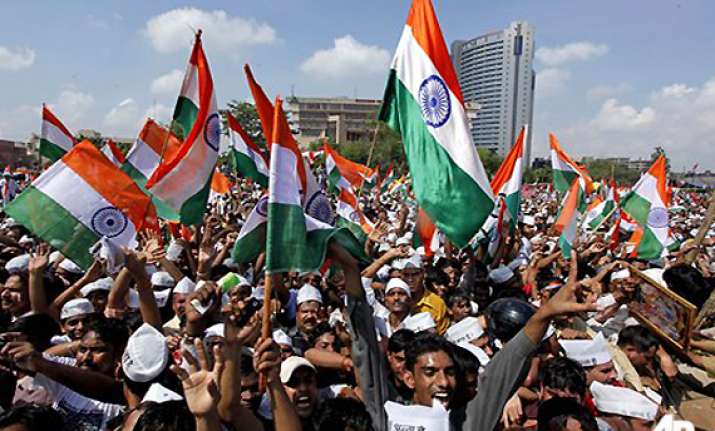 New Delhi, Aug 28: It was celebrations at full blast in Ramlila Maidan today immediately after Anna Hazare broke his fast as thousands of supporters broke into impromptu dancing, singing and waving of tri-colour while sweets and flowers were handed out.

The festivities which began last night reached a crescendo when the Gandhian accepted a glass of coconut water from a Dalit and a Muslim girl—Simran and Ikrah—at 10:20 AM, breaking his 288 hours of fast that began on August 16.




As Hazare started his address, people who had started descending at the historic ground since early this morning, jostled with each other to get a glimpse of the 74-year-old.

"I am witnessed to a historic moment. I will keep this moment alive always," said Sandip Dwivedi, a 32-year-old man from Dehradun, who has been in the Ramlila Maidan for last six days.




Holding a tri-colour in one hand and a digital camera in the other, the young professional, who is also is associated with an NGO, said, "Corruption is the single biggest hindrance for inclusive growth and Hazare's fast has given a direction to deal with the problem and inspire millions of people to lead an honest life".

As the roar of the people grew louder, Hazare kept appealing to them to celebrate the victory peacefully but the supporters were in no mood to relent.

"This is our day. Let us celebrate," said Ruchi Gupta, a 18-year-old girl from Saket as she tried to push a policeman to have a glimpse of Hazare.

Even as thousands of people attended victory celebrations majority seems to have little idea about the nuances of Hazare's demands as well as about the Jan Lokpal Bill. "I am here to support him. He is fighting against corruption and we all are with him," said Naresh Aggarwal, a 42-year-old shopkeeper from Lajpat Nagar, amid the carnival like atmosphere.

With hundreds of television cameras capturing the images, people also seen scrambling to draw their attention as chants of 'Vande Mataram' and 'Annaji Zindabad' rented the air. The supporters also sang the Lokpal song which has become sort of an anthem for the movement against corruption. Some supporters also broke the media barricading as they tried to dance to the beating of drums in front of TV cameras. Volunteers and police had a difficult time to control the crowd.

Celebrations also erupted on the streets near Ramlila as Hazare supporters rejoiced their victory by shouting slogans and waving the national flag.

"This is a triumph of people. It is a triumph of our democracy. People have come out in large numbers as everybody is affected by the evil called corruption," said Riti Borah, a 28-year-old management professional from CR park area of the city, while breaking into dance along with a group of fellow supporters.

Although the function marking the end of Hazare's fasting concluded at around 11 AM, people continued their celebrations at the ground till late afternoon. PTI