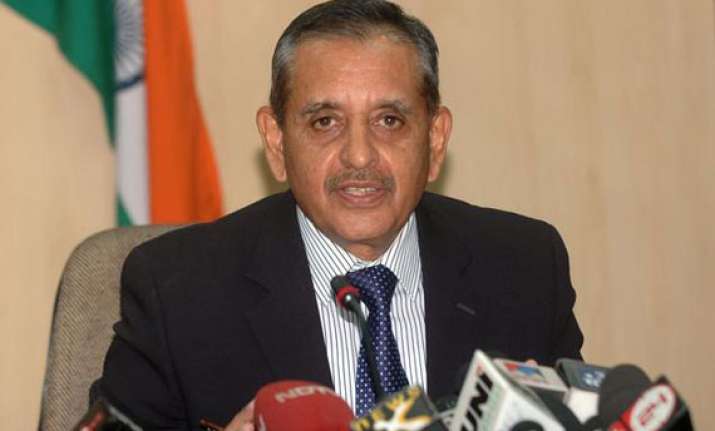 New Delhi, Nov 27: Amid the row over appointment of his successor Ranjit Sinha, CBI Director A P Singh today said the agency itself had mooted the idea of collegium for future selections so that the nominees are insulated from allegations of being only government's choice.
Singh, who demits office on November 30, at the same time said Sinha's selection was done in an "absolutely" fair and transparent manner as per Supreme Court guidelines.
The outgoing chief, whose two-year-long innings began with the 2G scam probe in 2010, said he had also suggested increasing the tenure of the CBI chief to five years.  
"And if they cannot increase it to five years, I think it should be at least increased to three years," he said. The tenure of CBI chief is for two years.
"This(collegium) was proposed to ensure that future directors are insulated from the allegation of being the choice of the government alone, even though the present selection is as per the procedure mandated by the Supreme Court is absolutely fair and transparent," Singh said at his farewell press conference.
Happy that putting the agency's point of view successfully in the Lokpal debate remained one of his achievements, he said, "We are happy to note that Select Committee has endorsed this (collegium) view and I am sure that successive directors will look forward to a healthy and meaningful relationship with the Lokpal."
Sinha's appointment triggered a row after BJP demanded that the Prime Minister put it on hold, contending that the Rajya Sabha Select Committee on Lokpal had suggested that such appointments should be done through a collegium method.
Prime Minister Manmohan Singh emphatically rejected the BJP's demand, saying the "question of keeping the new appointment in abeyance does not arise".
Singh also dismissed the BJP's allegation that the appointment was made to preempt the procedure recommended by the select committee looking into the Lokpal bill, saying the charge was "wholly unwarranted and devoid of any merit".
The demand was made by Leaders of Opposition in the Lok Sabha and Rajya Sabha Sushma Swaraj and Arun Jaitley respectively in a letter to the prime minister.
The proposed collegium is to comprise the Prime Minister, Leader of Opposition in the Lok Sabha and Chief Justice of India.
Asserting that CBI has successfully investigated and prosecuted cases against so-called high and mighty, Singh said baseless allegations of bias against the CBI and its director are totally unfounded, misconceived and unfortunate.