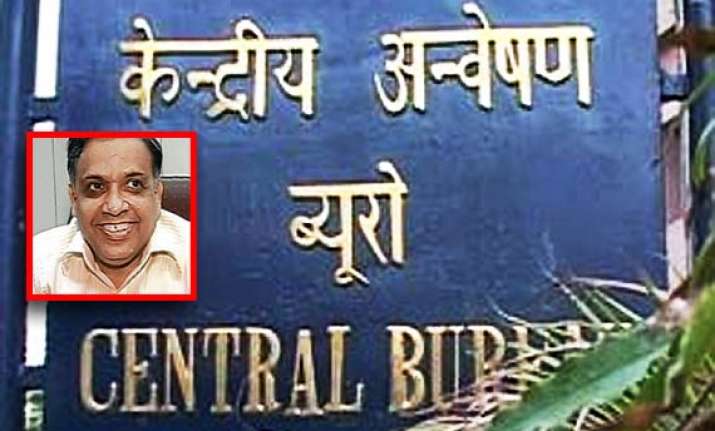 New Delhi, Feb 17: In a first of its own kind, CBI today announced a cash reward of Rs 10 lakh to anyone leading to the arrest of a serving but absconding Additional Director General of Rajasthan Police A K Jain in a fake encounter killing case of 2006.

CBI said anyone giving information leading to the arrest of Jain, a 1978 batch IPS officer of Rajasthan cadre, will be rewarded with Rs 10 lakh. He has been declared a proclaimed offender.

This is for the first time that a cash reward has been announced against such a senior IPS officer.  Besides Jain, CBI also announced a cash reward of Rs five lakh each against Inspector Rajesh Chowdhury and Zulfikar and Assistant Sub Inspector Arvind.

In its chargesheet filed last year in June, CBI had alleged Dara Singh, a liquor smuggler, was taken into illegal custody by the SOG officials from Jaipur Airport and was taken to a lonely place near Amber where he was kept hostage till October 23, 2006, when he was killed in a planned manner. 

"The circumstantial evidence shows clearly that Dara was murdered in cold blood by SOG personnel and the same was duly monitored by ADG Police A K Jain, SP SOG A Ponnuchammi and Additional SP Arshad Ali along with other officials and during this entire period Rajendra Rathore (a sitting BJP MLA) was on telephonic touch with Jain, ADGP," the chargesheet said.

However, the police had claimed Dara was fleeing from its custody when he was shot.

Several summons were served at the residence of Jain but he did not turn up for hearing, after which CBI got him declared him a proclaimed offender.

In the chargesheet, CBI named 16 police officials, including Jain and A Ponnuchammi, the then SP in the SOG, besides Additional Superintendent of Police Arsad Ali, Inspectors Nisar Khan and Naresh Sharma, Assistant Sub-Inspector Surendra Singh, Sub-Inspector Satyanarayan Godara among other policemen for the killing.

Of the 16 officials, 10 are absconding and among top officials only A Ponnuchammi is under judicial custody. The arrested policemen include Khan, Sharma, Godara and Surendra Singh. The agency has slapped charges of murder, criminal conspiracy and kidnapping among others on the accused. 

CBI alleged there was an animosity over supporting rival gangs of liquor smugglers between Rathore and Dara Singh, a criminal and a bootlegger operating in Rajasthan and Haryana who was facing several cases including those of attempt to murder and smuggling.

"There were two rival liquor mafias in Churu and Jhunjhunu districts of Rajasthan. One was headed by Sumer Singh Fagediya and included Vijendra Singh, alias Tilaia, and Dara Singh. The other group, ruled by one Virender Singh Nyangli, was protected by the then BJP minister and present MLA Rajender Singh Rathore," the chargesheet said.

"The animosity between Vijendra Singh, Dara Singh and Rajendra Rathore increased in 2003-2005 and even turned into personal animosity. Rathore even tried to reopen a false case against Dara Singh and his aide Vijender Singh in December 2005," it further said.

Dara Singh was allegedly killed by the SOG in a fake encounter on October 23, 2006, in Rangendra Prasad Nagar area on the outskirts of Jaipur.

CBI had named Rathore in its chargesheet in the case alleging he had a "strong motive and selfish interest" in the murder but did not name him as an accused.