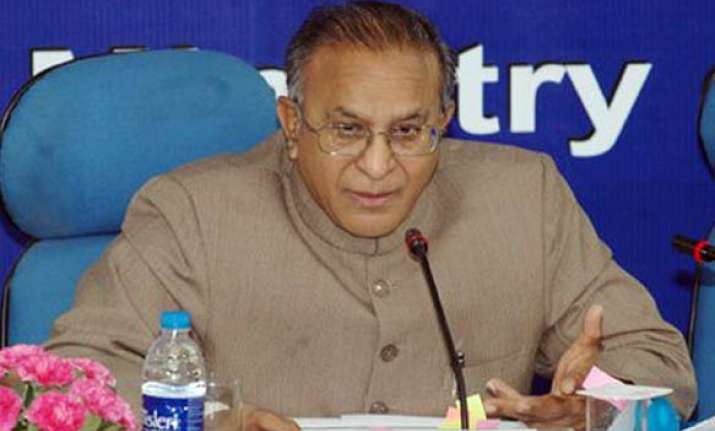 Panipat, Feb 15: Strongly backing state-owned ONGC's stand, Oil Minister S Jaipal Reddy today said his ministry is referring mining group Vedanta Resources' buyout of Cairn India to the Cabinet.
The USD 9.6 billion deal is going to the Cabinet Committee on Economic Affairs (CCEA) because of a standoff over the excess royalty Oil and Natural Gas Corp (ONGC) pays on Cairn India's oilfields in Rajasthan.
"... as it is a huge issue, we are trying to go to CCEA," Reddy told reporters here.
The note for the CCEA is being prepared and views of all concerned ministeries, including finance, law and corporate affairs, will be taken before it being put to the Cabinet, he said.
"We cannot bailout any seller or buyer. We will not compromise on concerns of ONGC," Reddy said. "The claim of ONGC that royalty should be a cost recoverable item, is being supported by us."
ONGC not just pays royalty on its 30 per cent share of oil from the Rajasthan block but also on partner Cairn India's 70 per cent share, making the nation's largest onland fields a losing proposition for it.
Cairn says ONGC is also contractually bound to pay Rs 2,500 per ton cess on all of the 12 million tons of projected crude oil output from the fields in the 3,111 sq km block.
The oil ministry wants the twin liability of Rs 21,800 crore on ONGC to be addressed before giving nod to Vedanta buying most of 62.4 per cent stake held by UK's Cairn Energy Plc in Cairn India.
However, Cairn and Vedanta opposed tooth-and-nail its proposal to make partners share the levies equitably.
"We are trying to expedite the process (of getting CCEA approval). I think it may go to Cabinet in 2-3 weeks," Reddy said.
A CCEA approval by month end may just give enough time to Vedanta group to make and complete an open offer for buying additional 20 per cent from Cairn India's minority shareholders, by April 15. But any delay beyond that would leave very little time for Cairn and Vedanta to conclude the transaction within that timeline.
Reddy said CCEA was being approached as "it (transaction) is too big for one ministry to handle".
Sources said that at a meeting called by Oil Secretary S Sundareshan last Sunday, Cairn Energy Chief Executive Bill Gammell had even given a veiled threat of calling of the deal if the ministry made this a precondition for approval.
While Gammell is believed to followed up with February 6 deliberations with a meeting with top officials in the Prime Minister's Office, Cairn India board on Thursday also opposed any move that will impact its valuation.
With the standoff continuing, the oil ministry decided to present the case to the CCEA for necessary directions, sources said.
ONGC, by virtue of its stake in eight out of the 10 oil and gas properties held by Cairn India, claims that it has preemption rights over the deal. It had asked Cairn to provide details of the deal, including asset-wise valuation, so as to decide on exercising its pre-emption rights.
Cairn, which had agreed reluctantly to the requirement of government nod for conclusion of the transaction, has rejected the state-owned firm's pre-emption or right of first refusal.
Sources said the oil ministry would tell the Cabinet that ONGC would pay Rs 12,600 crore on behalf of Cairn India as royalty over the 12-year life of the fields. It would have to pay another Rs 9,200 crore as cess, if Cairn has its way.
ONGC's July 2010 suggestion (made more than a month before Cairn-Vedanta deal was announced) of adding royalty to the project cost so that it can be recovered from the sale of oil produced would be presented to the Cabinet as one of the 11 pre-condition that can be imposed for approving the deal.
Sources said that on cess it may suggest that Cairn withdraw its arbitration and equitably it partner ONGC. Cairn is pays its share of cess under protest but has included the levy in project cost for recovery before profits for all stakeholders, including government, is calculated.
According to the ministry, a careful reading of the Rajasthan Production Sharing Contract (PSC) shows that while ONGC would be responsible for paying the statutory duties, these outgoes are to be shared by Cairn India and the state-owned firm through inclusion in the costs.
Cairn is opposed to this as it will lower its profits and valuation. It says only contractor cost (that is capital and operating expenditure) constitute project cost and can be recovered from sale of oil, sources said.
On the other hand, ONGC's royalty liability is a licensee cost which contractually cannot be made cost recoverable. ONGC is the licensee of the Rajasthan block and had got 30 per cent stake upon a discovery being made in the area for free. It did not incur any risk capital.
As per the PSC, the profit for Cairn India, ONGC and the government is calculated after deducting capital and operating expenses and royalty from the oil price realised.
The proposal to the CCEA may state that though the cost recovery of royalty would have an impact on the profit petroleum share of the government and Cairn Energy, ONGC's entitlement "cannot be overlooked" as it was based on the PSC. PTI