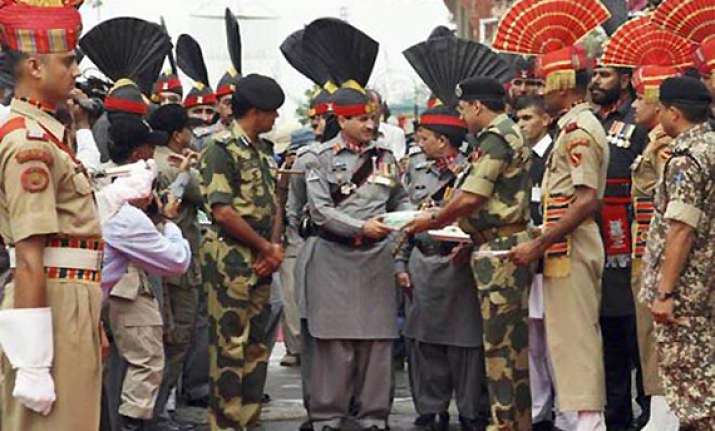 Attari (Punjab), Aug 9: Border guards of India and Pakistan exchanged sweets on the occasion of Eid in a a hush-hush manner Friday in the aftermath of the killing of five Indian Army soldiers by Pakistani troops in Jammu and Kashmir Aug 6.
Border Security Force (BSF) troopers prevented media persons from going towards the zero line along the international boundary at Attari-Wagah border gates, as Pakistan Rangers' Wing Commander Adnan presented sweets to BSF commandant K. Mazumdar amidst smiles on both sides in the presence of troopers of both sides.
Both sides exchange sweets on festive occasions in both countries and media is generally allowed to cover the events.
Official sources said that the BSF did not want any criticism of the sweets exchange event in wake of anti-Pakistan sentiments prevailing in the country, especially in Punjab, in wake of the killing of Indian soldiers.
The BSF troopers and officials prevented media personnel from going ahead of the customs gate or anywhere near the integrated check-post (ICP) here.
Both sides are likely to exchange sweets against on Independence Days of Pakistan (Aug 14) and India (Aug 15).
The Hind-Pak Dosti Manch (friendship forum), which organizes events on Aug 14-15 near the border gates here to help build camaraderie between both countries, has announced that cultural events would not be held this time in wake of the Poonch killings.
Other activities like seminars will be held as scheduled.
Punjab Youth Congress activists stopped the Delhi-Lahore bus on the Amritsar-Attari road for a few minutes Friday to protest the killing of Indian soldiers.